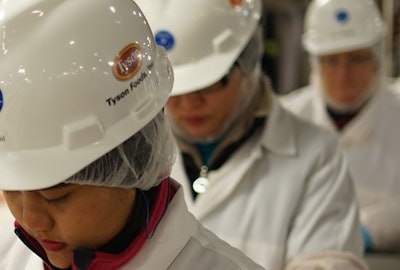 Tyson Foods
Tyson Foods is laying off 250 workers at its Wilkesboro, North Carolina, cooked poultry plant.
According to WBTV, the plant currently employs 3,000 people.
"After careful consideration, and in response to customer demand, we have reduced the number of positions on second shift at the Tyson Foods Wilkesboro complex. We realize the impact on our team members and supporting them is our priority. We were able to offer these team members the opportunity to take other positions at the Wilkesboro plant and to apply for positions at other Tyson Foods facilities," a Tyson Foods spokesperson told WATTPoultry.com in an e-mailed statement.
Plant closures schedules for 2024
The company also recently announced plans to close four U.S. poultry plants during the first half of the 2024 fiscal year. The affected plants are located in North Little Rock, Arkansas; Corydon, Indiana; Dexter, Missouri; and Noel, Missouri.
In the press release, Tyson Foods CEO Donnie King said the "difficult decision … demonstrates our commitment to bold action and operational excellence as we drive performance, including lower costs and improving capacity utilization and build on our strategy of making Tyson Foods stronger in the long term."
An additional two poultry plants in Tyson's Foods' network, located in Glen Allen, Virginia, and Van Buren, Arkansas, closed in May of this year. In June, the company consolidated its corporate employees to its Springdale, Arkansas, headquarters.
Tyson Foods, according to the WATTPoultry.com Top Poultry Companies Database, is the largest broiler producer in the United States, having processed 206.68 million pounds of ready-to-cook chicken on a weekly basis during the past year.