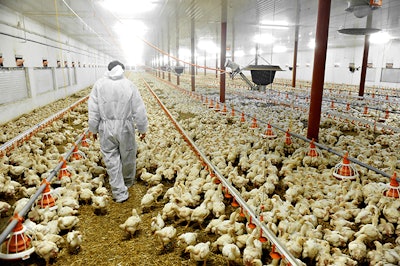 roibu | BigStock.com
Poultry producers will need to double-down on biosecurity protocols to protect commercial flocks in the U.S. against avian flu, Dr. Julianna Lenoch of the U.S. Department of Agriculture (USDA) Animal and Plant Health Inspection Service (APHIS) told USDA Radio Newsline.
"Producers lost more than $1.6 billion dollars and more than 50 million birds died or had to be culled" during the 2015 U.S. highly pathogenic avian influenza (HPAI) outbreak, she explained, noting that biosecurity is the best way to protect against the costly disease.
Experts at APHIS recommend that poultry producers take steps to prevent wildlife access in and around poultry houses by adding wildlife deterrents reducing wildlife attractants in and around poultry houses. These measures should also include restricting or limiting a bird's access to the outside.
Know how to identify avian influenza in poultry flocks
Highly pathogenic avian influenza (HPAI) recently resurfaced in the U.S. An APHIS wild bird surveillance program identified three confirmed cases of HPAI in wild birds in January 2022. Two of those cases were in Colleton County, South Carolina, while the other was in Hyde County, North Carolina. All three of those cases were confirmed in hunter-harvested birds.
With additional confirmed cases in the Canadian province of Newfoundland and Labrador, it is likely that more cases in the U.S. will be discovered. This means that the U.S. poultry industry needs to be alert and on the lookout for avian flu symptoms in their flock.
"It starts out with just simple malaise, but birds just don't feel good. They're quiet, more quiet than normal. They don't eat as much, they may not drink as much water," added Dr. Jack Shere, also with USDA's Animal and Plant Health Inspection Service.
"These are all signs that things are not normal in the flock. They need to be reported. They need to be looked into and perhaps the flock needs to be tested."
Eurasian H5 HPAI has not been detected in a wild bird in the United States since 2016. The last case of avian influenza to be reported by animal health agencies in the U.S. occurred in a commercial turkey flock in Kandiyohi County, Minnesota, in November 2021. However, that was a low pathogenic strain.
View our continuing coverage of the global avian influenza situation.