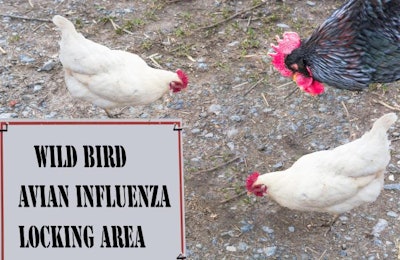 Highly pathogenic avian influenza (HPAI) is present once again in North America, and poultry growers in the U.S., must elevate their biosecurity in response.
So far in 2022, HPAI has been confirmed in wild birds in 11 states. The disease is present in two of the migratory flyways of North America and could spread.
However, as of February 22, 2022, only Kentucky and Indiana reported cases in commercial poultry flocks. Additional cases in Indiana are awaiting confirmation of presumed-positive test results.
Lessons learned
The last time there was a significant outbreak of HPAI in the U.S. it significantly disrupted both the turkey and egg industries. Hopefully, hard losses made for hard lessons and this time poultry growers and integrators will be ready.
Nevertheless, now is the time for all to review existing biosecurity practices, follow biosecurity best practices and consult national biosecurity and disease response documents.
The U.S. Department of Agriculture's Animal and Plant Health Inspection Service offers a national program called Defend the Flock which includes handbooks, videos and flyers in multiple languages. The National Poultry Improvement Plan also published actionable biosecurity information.
Global trade impacts
Another key piece of the HPAI equation is the impact on global trade. Often, the disease is cited in trade restrictions, and it is a crucial component in trade agreements. Forms of HPAI are present around the world with regular detections in Asia, Africa and in parts of Europe.
It is worth noting, in accordance the international standards set by the World Organization for Animal Health (OIE) wild bird findings as well as backyard poultry and backyard non-poultry should not result in any trade restrictions.
View our continuing coverage of the global avian influenza situation.