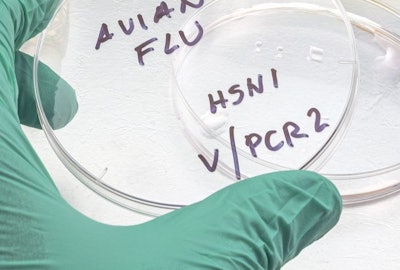 (felipecaparros | Bigstock)
Highly pathogenic avian influenza (HPAI) was confirmed in a commercial mixed species flock in Charles Mix County, South Dakota.
Now that HPAI has been found in South Dakota, which is in the Central Flyway, the virus has now been discovered in all four North American flyways.
Previously, HPAI was found in the Atlantic flyway, Mississippi Flyway and the Pacific Flyway. The Atlantic Flyway cases in 2022 involve a commercial turkey flock in Nova Scotia, Canada, and in commercial layer flocks in Delaware and Maryland. The Mississippi Flyway cases involve six cases of avian influenza in commercial turkey flocks in Indiana, a commercial broiler flock and a commercial turkey flock in Kentucky, and a commercial broiler flock in Missouri.
No commercial poultry flocks have been affected by HPAI this year in the Pacific Flyway, but it was confirmed in a bald eagle in British Columbia, Canada. HPAI detections in wild birds such as eagles should not result in any poultry trade restrictions, according to standards set forth by the World Organisation for Animal Health (OIE).
According to a press release from the United States Department of Agriculture (USDA) Animal and Plant Health Inspection Service (APHIS), samples from the flock were tested at the South Dakota State University Animal Disease Research and Diagnostic Laboratory, part of the National Animal Health Laboratory Network, and confirmed at the APHIS National Veterinary Services Laboratories (NVSL) in Ames, Iowa.

APHIS is working closely with state animal health officials in South Dakota on a joint incident response. State officials quarantined the affected premises, and birds on the properties will be depopulated to prevent the spread of the disease.
APHIS did not specify which species of birds were in the flock, or even if those birds were considered poultry. The agency also did not offer details on the size of the flock.
View our continuing coverage of the global avian influenza situation.