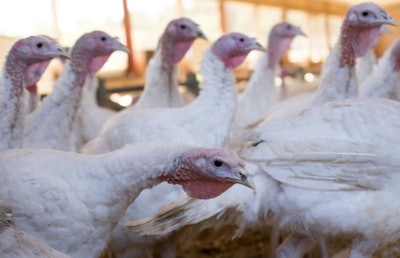 A commercial turkey operation in Johnston County, North Carolina, has tested positive for highly pathogenic avian influenza (HPAI), making it the state's first confirmed HPAI case in commercial poultry.
The positive sample was first identified by the North Carolina Department of Agriculture and Consumer Services (NCDACS) Veterinary Diagnostic Lab in Raleigh, and confirmed by the United States Department of Agriculture (USDA) Animal and Plant Health Inspection Service (APHIS) National Veterinary Services Lab in Ames, Iowa.
There were 32,100 turkeys in the affected flock.
The confirmed case was announced in separate press releases issued by APHIS and NCDACS on March 30.
While this is the state's first confirmed case of HPAI, more than 100 hunter harvested wild birds have tested positive for HPAI in North Carolina since January 16.
"With HPAI in the wild bird population and other cases around the country, commercial operators and backyard flock owners have been on heightened watch for any signs of the virus in their flocks," said State Veterinarian Mike Martin. "The industry responded quickly to the positive result, depopulating the affected flock of 32,100 and starting the composting process of the birds onsite to guard against additional spread. Under HPAI protocols, we will be actively testing other flocks within the 10-kilometer zone or about 6.2 miles in collaboration with our federal and industry partners."
The 10-kilometer zone includes Johnston County and portions of Sampson and Wayne counties.
North Carolina has joined a growing list of states with confirmed cases of HPAI in commercial poultry. Other states with confirmed HPAI cases include Minnesota, South Dakota, Iowa, Nebraska, Maryland, Delaware, Indiana, Kentucky, Missouri and Wisconsin. There have also been confirmed cases in the Canadian provinces of Nova Scotia and Ontario.
To learn more about HPAI cases in North American commercial poultry flocks, see an interactive map on WATTPoultry.com.
Read our ongoing coverage of the global avian influenza outbreak.