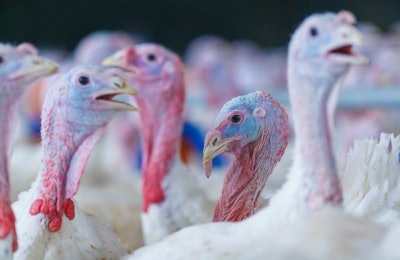 Four additional cases of highly pathogenic avian influenza (HPAI) were confirmed in commercial turkey flocks in South Dakota on April 5.
That same day, HPAI cases were confirmed in North Carolina, Missouri and Iowa.
According to the United States Department of Agriculture (USDA) Animal and Plant Health Inspection Service (APHIS), each the four new South Dakota cases was confirmed in a different county.
In Falk County, a flock of 48,114 turkeys was affected, while a flock of 24,000 turkeys was affected in Clark County. A case in Spink County affected 26,500 turkeys, while a case in Beadle County affected 57,000 turkeys.
Avian influenza in other states
APHIS announced that an earlier reported presumed-positive case in a commercial turkey flock in Wayne County, North Carolina, has become a confirmed case. There were 14,175 turkeys in that flock. Two other suspect cases in Clark County – both of which involved commercial broiler flocks – had not yet been confirmed.
In Iowa, the presence of HPAI in a commercial turkey flock in Hardin County was confirmed, with 40,000 turkeys affected.
APHIS also confirmed the presence of HPAI in a commercial poultry flock in Lawrence County, Missouri, but the agency did not specify the type of commercial operation affected. The number of birds in that flock has not yet been announced.
That same day, APHIS updated the list on its website to include six new cases of HPAI in Minnesota that were earlier announced by the Minnesota Board of Animal Health. With those new cases, avian influenza's toll in Minnesota has topped 1 million birds.
The 2022 HPAI outbreak in North America has affected 24.1 million head of commercial poultry.
To learn more about HPAI cases in North American commercial poultry flocks, see an interactive map on WATTPoultry.com.
Read our ongoing coverage of the global avian influenza outbreak.