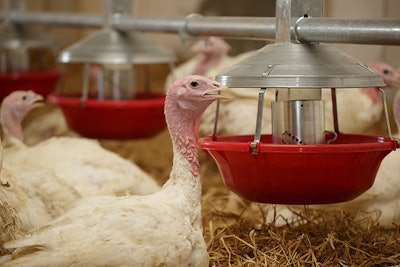 Getty Images/iStockphoto
The avian influenza outbreak in the United States will likely wind down in May. The impacts will linger on, however, for the turkey industry.
Gone by mid-May?
Highly pathogenic avian influenza (HPAI) is present throughout the U.S. and its affecting regions known for egg, broiler and turkey growing. It's evident the disease is spread by wild bird populations carrying it all over the continent.
Dr. Thomas Elam, president of FarmEcon LLC, said in a recent WATT Poultry Chat video he expects HPAI's spread will abate in May 2022. The virus prefers cool water and cool weather so the warmer spring and summer temperatures should stop its spread. The same thing occurred the last time there was a major outbreak in 2015.
In terms of mortality attributed to the disease, there are fewer total deaths in this outbreak than in 2015 but more species affected. Elam noted HPAI detections are more geographically widespread than before, too.
Production impacts
Both Elam and Mark Jordan, executive director of LEAP Market Analytics, said the impact on the broiler industry is negligible in terms of production, price and trade impacts.
The turkey industry, however, is seeing 2015 all over again.
Jordan said in 2015, the turkey breast price was already elevated before the outbreak and rose to nearly $6 a pound. Now, the turkey breast price is relatively high, turkey losses are piling up and the price is rising once again. He said the price will pass $5 a pound and continue upward.
Along with losses, Jordan said the turkey industry may be taking pre-emptive measures to reduce disease risk that involve temporarily idling farms and plants. That would further increase the production impact.
Export impacts
Elam said the outbreak likely jeopardizes the turkey industry's export market. HPAI positive states are home to 79% of the U.S. turkey flock and there will be export impacts.
The lynchpin is Mexico, he said. The U.S.' southern neighbor is the largest consumer of turkey outside of the U.S. and purchases more than half of the industry's exports.
"There's no doubt about it going forward, this is going to have a significant impact on our exports depending mainly on what Mexico does," Elam said. "We are going to have a yet unknowable impact on exports that will far surpass the impact on production."