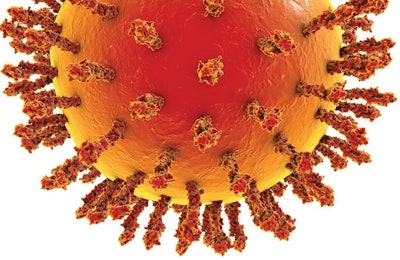 A person who was involved in the depopulation of a poultry flock affected by highly pathogenic avian influenza (HPAI) has tested positive for the same virus.
According to a notice from the U.S. Centers for Disease Control and Prevention (CDC), the patient tested positive for avian influenza A(H5) virus, after having direct exposure to poultry in a Colorado flock where an H5N1 variant of HPAI was detected.
This person's identity was not released, but the Colorado Department of Public Health and Environment (CDPHE) described the person as an adult male who is younger than 40, who was also an inmate at a state correctional facility in Delta County. The man was working with poultry as part of a pre-release employment program where participants have the opportunity to work for private employers and be paid a prevailing wage.
The only symptom the patient had been exhibiting was fatigue, and the patient has since recovered. He is now isolating and receiving the influenza antiviral drug oseltamivir (tamiflu) per CDC guidance, CDPHE stated.
While it is possible the detection of H5 bird flu in this specimen is a result of surface contamination of the nasal membrane, that can't be determined at this point and the positive test result meets the criteria for an H5 case, CDC stated. The appropriate public health response at this time is to assume this is an infection and take actions to contain and treat.
Other people involved in the depopulation operation in Colorado have so far tested negative for H5 virus infection, but they continue to be retested as a cautionary measure.
CDC has been monitoring for illness among people exposed to H5N1 virus-infected birds since these outbreaks were detected in U.S. wild birds and poultry in late 2021 and into 2022. CDC has tracked the health of more than 2,500 people with exposures to H5N1 virus-infected birds and this is the only case that has been found to date.
Colorado has so far only had one confirmed case of HPAI in Colorado that involves commercial poultry, which was a flock of about 60,000 commercial broiler breeders in Montrose County, which borders Utah. Colorado has also had confirmed HPAI cases in two backyard flocks.
Read our ongoing coverage of the global avian influenza outbreak.