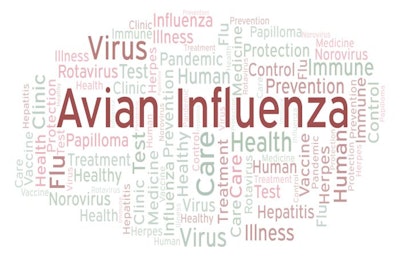 Three previously announced cases of highly pathogenic avian influenza (HPAI) in commercial poultry flocks in the United States resulted in the loss of 187,600 birds.
On May 4, the United States Department of Agriculture (USDA) Animal and Plant Health Inspection Service (APHIS) announced six new cases of highly pathogenic avian influenza in four states, but did not include information concerning the flock size of half of those cases. Those cases included a commercial turkey flock in Lyon County, Minnesota; a commercial turkey flock in Beadle County, South Dakota; and a commercial duck flock in Berks County, Pennsylvania.
New information on the APHIS website reveals that the Minnesota flock involved 118,900 turkeys, the South Dakota flock involved 56,200 turkeys, and the Pennsylvania flock involved 12,500 ducks.
To date, Minnesota has had 57 commercial flocks affected by HPAI, while South Dakota and Pennsylvania have had 36 and 9 affected flocks, respectively.
So far in 2022, 171 commercial flocks have been affected by HPAI, with 36,970,700 bird losses. States with confirmed cases are Wisconsin, Oklahoma, Minnesota, North Dakota, South Dakota, Nebraska, Kansas, Iowa, Missouri, Kentucky, Indiana, Colorado, North Carolina, Delaware, Maryland, Pennsylvania and Utah. The virus has also been found in commercial game bird operations in Texas, New York and South Dakota.
New case in Ontario
A new case of HPAI has also been reported in the Canadian province of Ontario. The Canadian Food Inspection Agency (CFIA) reported that the virus was confirmed on May 4 in the Regional Municipality of York. The CFIA did not reveal the size of the flock or the species of birds involved.
This marks the second HPAI case in York.
To learn more about HPAI cases in North American commercial poultry flocks, see an interactive map on WATTPoultry.com.
Read our ongoing coverage of the global avian influenza outbreak.