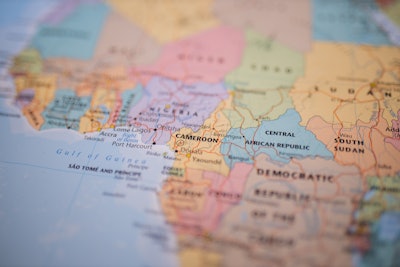 ChristianOstmo | Bigstock.com
In mid-April, the presence of the H5N1 serotype of the highly pathogenic avian influenza (HPAI) virus has been found in the Gabonese Republic (Gabon).
According to the official report, around 15,000 at a farm died. The affected premises was in Noya. This is according to the notification to the World Organisation for Animal Health (OIE). Source of the infection is unknown, and the poultry type involved is not specified.
A department in the north of the country that borders Equatorial Guinea, Noya is in Estuaire. This is a heavily populated province in the northwest of Gabon, and includes the nation's capital city, Libreville.
Nigeria detects further virus serotype
Since the current HPAI wave began in December of 2020, more than 300 outbreaks of the disease linked to the H5N1 virus serotype have been reported in this West African state.
Over the past month, Nigeria's veterinary authority has registered a further nine outbreaks with the OIE.
Over the period February 26 to April 26, these affected a total of more than 175,300 poultry through mortality or culling. Confirmed across five states — Gombe, Kaduna, Kano, Kogi, and Ogun — were cases in one backyard flock and one live bird market, while the other outbreaks affected farms. Involved in the largest outbreak were 90,000 laying hens.
These latest outbreaks bring Nigeria's total outbreaks since 2020 to 341. Directly impacted have been more than 2.18 million poultry.
Recent cases included the first in Kogi. This brings to 27 the number of Nigerian states reporting one or more outbreaks over the past two years.
As well as the H5N1 variant, the H5N2 HPAI virus serotype has also been detected in domestic chickens in Nigeria. This occurred in Bauchi state at the end of 2021, according to the latest HPAI update from the United Nations' Food and Agriculture Organization. No further details of the outbreak are given.
One more outbreak in South Africa
Earlier this month, one new HPAI outbreak in poultry was confirmed by South Africa's animal health agency to the OIE.
Of the 157 poultry at a farm in Gauteng province, 42 died. Presence of the H5N1 virus variant was confirmed. At the same time, further susceptible birds were also recorded at previously reported outbreaks in this area, as well as additional culls to prevent wider virus spread.
Since the current HPAI wave began in Gauteng in March of 2021, the number of outbreaks on commercial farms has risen to 87. Almost 4.7 million poultry have been directly impacted.
In April, it was reported that HPAI had been detected again in Mali, and further cases were confirmed in Niger in West Africa.
View our continuing coverage of the global avian influenza situation.