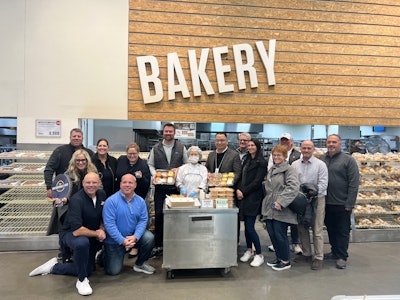 Courtesy American Egg Board
The American Egg Board (AEB) and a contingent of U.S. egg producers recently travelled on a trade mission to South Korea and Japan as part of a new strategic industry initiative to double U.S. egg exports by 2028.
"We are only exporting 3.8% of our total production each year, compared to almost 20% of our pork inventory and 18% of our dairy," said Emily Metz, AEB President and CEO.
AEB aims to help producers build long-lasting partnerships in the two export markets to diversify their sales portfolios and increase access to U.S. eggs and egg products in other countries. Additionally, the mission will create a stronger and more sustainable egg industry in the U.S. long term.
"Our focus on trade missions is an essential step in a larger global egg strategy that I believe is fundamental to the prosperity and stability of our U.S. egg producers and crucial to the industry's future," she said.
The U.S. egg producers represented on the mission include Versova, Deb El Food Products, Nature Pure LLC, Creighton Brothers, Oskaloosa Food Products, S&R Egg Farm, Kreher's Farm Fresh Eggs and Rose Acre Farms.
Metz said future missions to other target markets, such as the Philippines and Mexico, are already being planned.
The mission itinerary and building relationships
The mission in South Korea and Japan was focused on meetings with officials and buyers, and tours of wholesale markets and manufacturing companies to help Metz and the producers gain a better understanding of market opportunities, egg product potential, food trends and new applications for eggs.
Metz said crucial parts of this mission were the relationship-building aspect and laying the foundation for steady, long-term growth for the U.S. egg industry.
"In the past, we have only exported when it was particularly advantageous to do so. In order to build our exports, we need to be a consistent supplier. There is nothing better than the face-to-face meetings we have had when it comes to long-term relationships," she said.
"We have heard many times how much people value that we chose to come to Korea and Japan for our first trade mission and that we chose to fly this far and come and meet with the buyers and start these discussions."
The international demand for U.S. products
While AEB believes there is an opportunity for the U.S. to export shell eggs, the short-term focus will be on exporting egg products due to the versatility, functionality and transportability.
"Not only are we identifying priority countries, but within those countries, the priority channels where we have a competitive edge compared to other exporters of eggs and egg products," said Metz. "In Korea, we've identified the bakery channel. We're working in that channel to integrate U.S. egg products."
According to Metz, Korea's bakery channel is larger and more established compared to other countries' bakery sectors, emphasizing the need for more eggs and egg products.
"We have partnerships with several bakery chains all over Korea, and Seoul in particular. They have been astounded at how amazingly well and consistently U.S. egg products perform," stated Metz. "The U.S. is considered, especially in Asian markets and South Korea, a very desirable brand. There is a huge opportunity for us to tap into that love of U.S. products and have eggs enter the discussion."
Additionally, Metz said previous missions she has taken revealed there is a desire for U.S. shell eggs and egg products.
The learning curve after the mission
In the near future, the represented producers plan to be ambassadors to the U.S. industry to advocate for the export opportunity among other egg companies and confirm that the AEB's export goal is desirable and attainable.
"The opportunity is now. We need to put our heads together to figure out how we can crack this export mark open," said Metz. "Some of the producers are going to start sending samples internationally and continuing having conversations with these countries."
Additionally, the AEB and producers will be working to figure out how the U.S. can best market egg products to these potential export markets.
Metz added that many master bakers in Korea are accustomed to table eggs, so the AEB is working to educate the region on the benefits of using egg products. "We have been working to educate them about how egg products can perform and replace table eggs," she said. "Education is huge because a lot of these markets are not used to egg products."