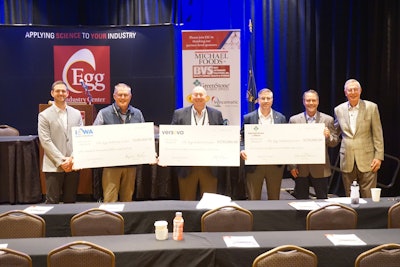 Courtesy Iowa State University
A combined US$600,000 was donated to Iowa State University's Egg Industry Center (EIC) grant program to fund research concerning on-farm egg production and processing.
The EIC said it hopes the current donations, and future fundraising efforts, will double the amount of research that can be funded for the egg industry. The donors were financial cooperative Farm Credit Services of America, philanthropic group Versova Community Foundation and industry organization Iowa Egg Council.
To date, the EIC's grant program has distributed over US$2.5 million in funding to researchers at 14 different North American academic institutions.
"EIC is deeply grateful to these donors for agreeing that solid scientific solutions are important for the future of the egg industry," said Dr. Richard Gates, EIC Director and Endowed Professor at Iowa State University. "While these funds are important to help find answers to challenges facing the egg industry, they also keep researchers working on egg-related issues, which gets students interested in careers within the egg sector."
More about the grant program
Since the university started the EIC grant program in 2013, funded research projects have focused on avian influenza and other diseases, hen and pullet housing, animal welfare, air quality, sustainability and value-added markets, amongst other areas. A summary of the organization's funded research studies, including the abstract, research results and total donation, can be found on the EIC's website.
According to the EIC, its grant proposal process selects research projects based on scientific merit and relevance to current or emerging issues in the U.S. egg industry. Its grant program has funded 35 research projects since its beginning ten years ago.
"We all know that a dollar doesn't go as far as it used to and with the things the industry has experienced over the last several years, it is clear that the amount of science needed to help the industry move forward is significant," added Gates. "This amount and level of work can't be done on the research budget EIC had."