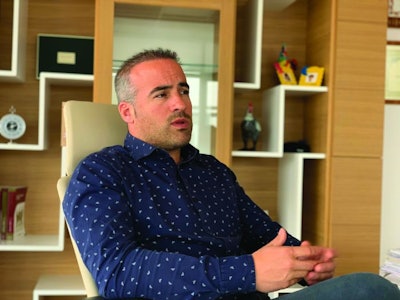 Leaving caged production behind is not an easy path.
"As an entrepreneur, you have to look for the business feasibility," said Rubén Martínez, CEO of Avícola Rujamar in Cuenca, Spain. Many consumers in Spain aren't concerned about conventional hen housing, he said. However, Martinez is an advocate of animal welfare.
That is why, in June 2018, he eliminated all the conventional cages of his 1.2 million layer operation, becoming the largest producer of cage-free eggs in Spain. He knew this decision, although it would cost him money and efficiency, could give him a competitive advantage in the market, Martínez told Egg Industry sister publication Industria Avícola during a tour of the Rujamar facilities in San Lorenzo de la Parrilla, a municipality in the Castilla-La Mancha province.
Martinez does not doubt that, sooner or later, cages will be banned.
The operation includes an egg packing area, rearing house, a production house with cage-free hens and two feed plants (one is for organic feed).
Everything must be done in an orderly fashion and must be viable, with a well-structured business plan and a well-made commercial network.
"I have managed to focus my business to be able to sell cage-free eggs at a good price," said Martinez, who has opted for digital technology in virtually all processes.
Production on the floor may be the future
Rujamar produces 295 million brown eggs per year in the aviary, with an average weight of 62 grams with Lohmann, Isa Brown and Hy-Line hens.
Production peaks are below 93%, have higher mortality rate and higher production costs. Floor production costs are between 20% and 25% more than in cages; free range is 50% more expensive and organic costs twice as much as cage free.
"I am convinced that floor production will be the system that will replace cages," Martínez said. This system sees more success compared with free range or organic because birds are better protected and there is greater control, resulting in lower mortality.
Cage-free aviaries with 200,000 hens only exist in Spain and the United States. A poultry house like that is hard to manage. In Spain, very large houses are used, but alternative production systems are not the norm, he said.
Rujamar has five houses that exceed 150,000 birds — "an outrage" for a European alternative production system.
Where does the pressure come from?
Europe underwent a huge transformation in 2012 with the elimination of conventional cages. Then came enriched cages, which have roosts, nests and a series of requirements that make them much better than before. Despite the changes, hens were still caged.
Pressure for changing systems was imposed by the European Union, but no regulation calls for the elimination of cages at a certain time. However, there is social pressure coming from supermarkets.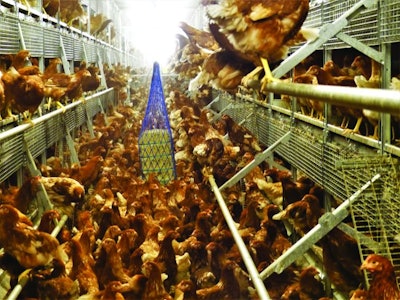 Floor production allows birds to have better protection, and offers greater control and lower mortality than free-range hens. (Benjamín Ruiz)
"This trend does even more damage than the government. When there is an imposition of the market, it is necessary to follow it, because not doing it makes it very complicated to take it afterward," Martínez said.
European producers face challenges because they are transitioning to cage-free production. However, "those of us who are ahead or on par with the movement, we are going to have more possibilities in the future and more profitability of our businesses."
Leaving cages behind is not a disaster
Although Martínez believes there is little consumer pressure, he thinks producers should listen to consumers because there are always some comments "that are right." The elimination of cages "is not a global disaster, except for the poultry producer, because he/she has to make very large investments and has to train professionals for managing the system."
In Europe, animal welfare for poultry is here to stay. Some people do not care; they just want to eat a cheap and healthy egg. However, there is another major group that pays a penny and a half more, as long as the hen is free from the day it hatches.
Animal welfare does not equal better efficiency
Caged production will always be more efficient because it has made it possible to achieve maximum genetic excellence as various breeding companies have managed to generate layers that produce more than 500 eggs.
Getting this in an aviary is practically impossible. In comparison, on the floor, the average is 420 to 430 eggs and, for free range and organic, about 400 eggs.
"In the best-case scenario, (cage-free housing systems) would be equal to that of cages; productivity would never be better, although the hen is better. This must be stressed: animal welfare does not mean productivity of the bird," Martínez said. There is no direct relationship between a hen laying more eggs and living outside of cages.
Also, hen longevity is decreased. A hen can lay in a conventional system for 17 or 18 months, without molting. In an aviary, free-range or organic system, "as of the 10th month, even with very good feeding programs, eggshell is affected and eventually forces you to replace birds."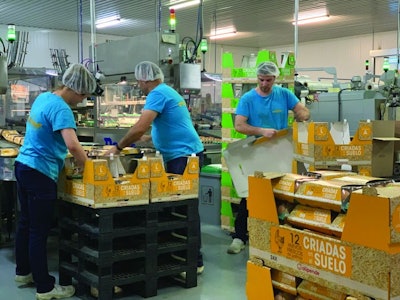 Rujamar has its egg classification and packing facilities in Cuenca, Spain. (Cindy Burgos)
Rujamar in research and development
Poultry producers must add value to the product, and that costs more. That's why Martinez has big plans for research and development facilities that are under construction, where Rujamar will work with several Spanish universities.
They intend to address issues such as the production of boiled eggs and liquid eggs from micro-cracked and dirty eggs, to evaluate the viability of the investment. They also want to do more research on the differences between free-range, organic and aviary eggs.
Recommendations for poultry producers
Martinez feels that if he could make the transition, others can too. He explained that while the transition may seem frightening due to the complexity of the housing system and financial investment, it demands that it's a business opportunity nonetheless.