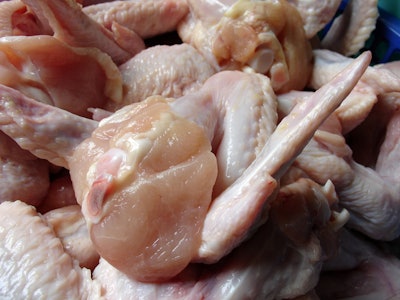 Around the world, poultry remains one of the most popular meats, and although growth is expected to slow over the next decade compared to that of the previous one, it forecast to have seen a nearly 3% increase in production volume in 2019. According to projections from the Food and Agriculture Organization (FAO), nearly 128.4 million metric tons of poultry meat will be produced in 2019, contributing the largest share to the total meat production of 336.5 million metric tons in 2019, including bovine, pig and ovine meat. Of a 15-year comparisons, poultry meat production rose nearly 44 million metric tons from 2004-19 compared to 46 million metric tons in the period 2003-18, according to FAO reports.
The U.S., China and Brazil remain the main poultry meat production countries, with 2019 production in those countries forecast by FAO at 22.6 million metric tons, 20.4 million metric tons and 14.2 million metric tons, respectively. However, developing countries remain the ones to watch in the near term, according to FAO projections, where populations are growing faster and diets are changing, leading to increased meat consumption. Broken out by region, these developing countries contributed nearly 77 million metric tons to the world total in 2019 compared with nearly 51 million from developed countries.
In the Latin American and Caribbean region, for example, the number of poultry head more than doubled between the comparison period 1980-82 and 2015-17. The region's poultry head count grew from 1,052 during the former period to 3,530 during the latter period.
Animal diseases like avian influenza have hurt poultry producers in the past, however it has recently come under more control, and poultry producers are gaining ground by other diseases affecting other animal species, namely African Swine Fever (ASF). This, along with better technologies and improving productivity in operations around the world will support the slow growth the poultry industry will see in the short term.