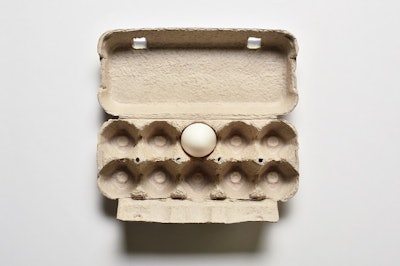 Getty Images/iStockphoto
Airline catering company gategroup announced it would source 100% of its shell eggs and egg products from cage-free layers by 2025.
In the company's commitment, it stated that all egg purchases, including shell egg, liquid egg and mixes containing more than 80% egg, will conform to specific animal welfare standards that meet or exceed those dictated by local legislation by 2025.
To achieve the goal, gategroup said it is working with the regions it serves that have less developed supplier bases in terms of sustainability.
The company is headquartered in Zurich, Switzerland, and works in over 60 countries across all continents. It owns brands Gate Gourmet, gateretail, servair and deSter.
"This is an important step for making gategroup a more transparent, sustainable company," stated Francisco Moreno, gategroup Chief Operations Officer. "We have always cared about maintaining a sustainable, ethical supply chain—but we have a responsibility to do more."
Other companies in the travel industry that have made similar cage-free sourcing pledges include hotel chain Four Seasons, cruise line Carnival Corporation and Norwegian Cruise Line, all by 2025.
Will all companies meet their cage-free pledges?
In November 2022, the annually published EggTrack report found that over 75% of companies included in the report had announced progress on their cage-free transition over the past year.
The 2022 report tracks 232 companies and details each company's cage-free deadline, progress made against pledges and key findings pertaining to the egg industry's transition. Of the 232 companies, 103 operate globally, 52 operate in North America, 76 operate in Europe and two operate in the Asia-Pacific region.
Out of the 58 global companies reporting to EggTrack, 34 reported progress on cage-free pledges. Companies with global supply chains stand at an average of 63% cage free.
In Europe, 85.2% reported cage-free sourcing progress compared to 84% in 2021. The region's layer flock is 55% cage free (not including the UK).