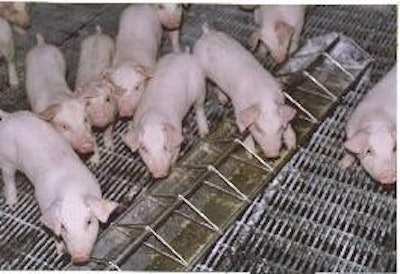 Hog and pork prices are expected to remain at or near record highs for the remainder of 2011, according to the latest U.S. Department of Agriculture report, supported in large part by accelerating pork exports.
The USDA raised its forecasts for both third- and fourth-quarter 2011 pork exports, with shipments to Asia and North America expected to be particularly robust. Third-quarter exports are expected to be 1.2 billion pounds, more than 26% higher than the same time in 2010. Fourth-quarter exports are forecast to be 1.3 billion pounds, more than 13% above 2010 numbers. In total, U.S. pork exports will likely exceed 5 billion pounds, both this year, at just over 5 billion pounds, and in 2012, at 5.1 billion pounds.
While second-half U.S. commercial pork production is anticipated to be slightly higher than a year ago, strong export demand is tightening domestic pork supplies, contributing to record prices for hogs and for prices of wholesale and retail pork, according to the report. In fact, it is likely that 22.1% of U.S. pork production will be exported in 2011. In conjunction with strong exports is lower available pork per capita. Retail weight per capita pork disappearance is expected to be 45.9 pounds, down from 47.7 pounds in 2010.
U.S. consumers are paying higher retail pork prices for lower domestic supplies. July retail pork prices were $3.481 per pound, down just slightly from the all-time record-high retail price of $3.484 in June, and almost 9.3% higher than in July 2010. Retail prices are expected to remain in the neighborhood of the mid-$3.40s for the balance of 2011, with 2012 expected to average in the low-$3.40s per pound.