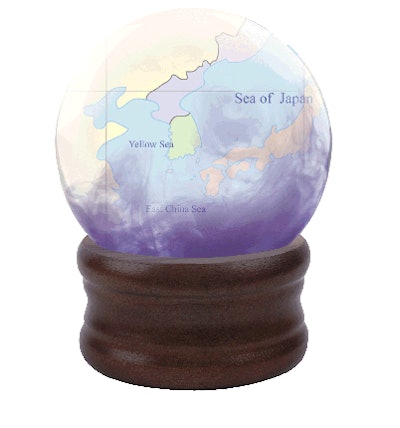 Korea's poultry producers are a little more optimistic this year. While few expect 2009 to beat 2007's records, the difficulties that affected the market in 2008 are now largely over.
Broiler production this year is expected to reach 553,000 metric tons. While this falls short of the 570,000 metric tons recorded for 2007, it is an improvement on 2008's estimated 543,000 tons.
While off their highs, elevated feed prices are expected to continue to have a negative impact on the industry this year. Additionally, 2008's outbreaks of highly pathogenic avian influenza are still having an impact on consumers' eating habits, with a switch away from poultry to beef, despite the country declaring itself free from the disease in August last year.
The Korean industry has stood up remarkably well to its outbreaks of HPAI. A number of outbreaks occurred in 2006 and 2007 but the disease emerged strongly between February and May last year.
A record number of 8.5 million poultry — equivalent to 1% of annual broiler slaughter — were culled to stem the spread of the disease during the first half of 2008. According to the Korean Chicken Council, total losses, including lost sales, stood at $630 million.
In June last year, broiler inventories were estimated to be 77.9 million, a decrease of 10 million compared with 12 months earlier. Higher feed costs also had an impact and the country is thought to have produced only some 543,000 tons of poultry meat last year, a 5% decrease.
2007 saw Korea achieve record production for the third year in succession, stimulated by high farm-gate prices. Should Korea remain HPAI-free, broiler production this year is expected to recover but still fall short of two years ago.
Consumption
Korea's per capita consumption of chicken has been growing since at least the mid-1990s and stood at 9kg in 2007. While some recovery in domestic consumption is expected this year, there is no doubt that HPAI has affected the market.
Initially, consumers showed little concern for the outbreaks. However, as the disease spread, consumers became increasingly reluctant to consume poultry products. For 2008 as a whole, the decline in consumption is thought to have been in the region of 3% at 606,000 metric tons.
Since August 2008, when the government declared that Korea was once again HPAI-free, consumption has picked up but the move to beef as opposed to poultry is having a lingering effect. In 2009, Koreans are forecast to consume 623,000 tons of poultry meat — up from last year but still below 2007.
Avian influenza has affected consumption in other ways. The preventive culls resulted in fewer birds and there are reports that some restaurant chains have removed certain items from their menus due to a lack of reliable supplies. Lack of supplies has led to a surge in price of eggs.
Other factors are also expected to have an impact on consumption this year. For example, since December 2008, restaurants have had to identify the country of origin of chicken or beef menu items but it is too early to see how this will affect consumption.
Additionally, since January 1, all slaughterhouses providing poultry products for retail have had to ensure their goods are packaged. This legislation has been phased in since January 2007, prior to which 60% of poultry products left slaughterhouses without packaging.
Korea's poultry producers now also have to cope with greater restrictions on the use of in-feed antibiotics.
Imports and exports
Over the eight months to August last year, poultry meat imports were 26% higher and might have reached 70,000 tons by the year end. A similar figure is predicted for this year.
Broiler meat exports remained strong last year despite the disease outbreaks. For 2009, total exports are predicted to be in the region of the 6,000 tons achieved in 2008. Last year, exports remained undented and above expectations despite HPAI, with the country's ability to enter new markets making up for the loss of those territories that rejected its poultry exports.