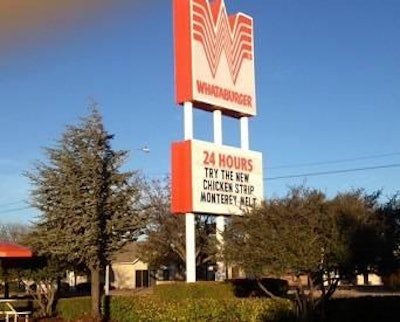 Texas-based fast food restaurant chain Whataburger is reducing its breakfast hours, citing an egg supply shortage brought on by the avian influenza outbreak that has hit the United States.
Effective May 31, the chain altered its hours for serving breakfast foods. The new breakfast hours will be from 5 a.m. until 9 a.m. on weekdays and from 5 a.m. until 11 a.m. on weekends.
The company stated that its primary egg supplier was one of the companies hardest hit by avian influenza losses. However, it stressed it is trying to find other suppliers.
"While our supply team continues to work diligently to source more eggs, we feel a limited time period to serve our breakfast dishes is a better alternative to stop serving them altogether," the company said in a statement. "Whataburger is working closely with our egg suppliers to do everything in our power to replenish our egg supply as soon as possible."
The chain, which has more than 770 locations, added that it hopes to return to its normal breakfast operations soon.
Avian influenza has been detected in 20 U.S. states in 2015, with many of those cases impacting egg layer operations in Iowa and other Midwestern states. Bookmark WATTAgNet's
avian influenza update page
to see the latest news and analysis on how avian influenza is affecting the poultry industry.