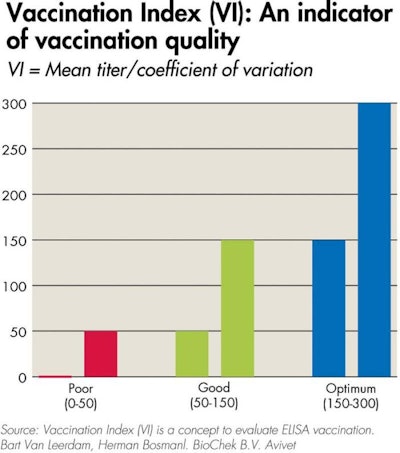 The consequences of chicken infectious anemia virus (CIAV) infection are serious but monitoring and vaccination programs offer protection in poultry flocks.
Speaking in the webinar, "Optimizing the protection against Chicken Infectious Anemia," Dr. Alejandro Banda, professor, Mississippi State University, presented recommendations for vaccination and monitoring for CIAV. The webinar presented by WATT Global Media was sponsored by Lohmann Animal Health now a part of Elanco.
"Vaccination and monitoring of CIAV antibody titers in breeders (six weeks post-vaccination) and their progeny (DOC) is the best method to effectively prevent CIAV and the associated economic impact," Dr. Banda said.
He noted that ELISA serology is a widely used tool to monitor immune response after vaccination.
The chicken anemia virus
The chicken anemia virus is a small, non-enveloped Gyrovirus of the Circoviridae family with worldwide distribution. While there is one serotype, strains may differ in pathogenicity and be very resistant to environmental conditions.
Chicken infectious anemia, which can be spread horizontally or vertically in flocks, causes a range of problems for poultry producers:
Viral Immunosuppressive Disease
Severe anemia and hemorrhages
Generalized lymphoid atrophy
CIAV-induced immunosuppression
Increased susceptibility to secondary infections
Increased mortality
Impaired performance
Chickens of all ages are susceptible to CIAV, but the disease occurs clinically between the first and third weeks of age. In addition to various signs and lesions, mortality is between 5 percent and 10 percent, he said.
Effects on health and performance
CIAV is important both clinically and subclinically, Banda told listeners. Subclinically, the disease produces a decrease on productive performance and immunosuppression when maternal antibodies decay. Flocks with no CIAV infection achieved 13 percent greater net income, 2 percent better feed-conversion ratios and 2.5 percent greater average weight per bird. CIAV may also contribute to the condemnations at processing plants.
CIAV role as a risk factor for disease
CIAV has been shown to be involved with other diseases and production losses in broilers, Banda said. Infectious bursal disease (IBDV), for example, may have an impact on the pathogenicity and transmissibility of CIAV.
The results of IBDV-CIAV co-infection at day one of age included the following:
A greater reduction in NDV challenge protection (33.3 percent)
Slightly decreased FPV protection (87.5 percent)
Increased numbers of persistent FPV vaccination lesions
Vaccination following dual infection at two weeks of age resulted in a higher percentage of FPV persistent vaccination lesions (39 percent)
"CIAV may also have an effect on the immune response to inactivated Newcastle vaccine. Newcastle disease mean antibody titers were 4.6 logs lower in flocks showing antibodies versus chicken anemia virus. Flocks showing good Newcastle disease antibody responses were shown to be chicken anemia agent-antibody-negative.
Management, hygiene and vaccination
Eradication of CIAV is virtually impossible, so producers must rely on management and hygiene, immunization, vaccination and natural exposure, Banda said.
"Vaccination of breeder flocks effectively prevents vertical transmission. Vaccination provides passive immunity to progeny to be protected during first weeks of age. Optimum vaccination of the breeding stock is needed to ensure a high, homogeneous and long-lasting level of maternal antibodies," he said.
Role of live attenuated vaccines
Banda said live attenuated vaccines may be administered around 12 weeks to avoid lesions. However, there are different levels of attenuation in vaccines dictating whether oral or parenteral routes (wing web or intramuscular) are chosen.
That's where vaccination and monitoring of CIAV antibody titers in breeders come into play. Monitoring breeders at six weeks post-vaccination and their progeny at day one of age is the best method to effectively prevent CIAV and the associated economic impact, he said.
ELISA Serology is a widely used tool to monitor immune response after vaccination, he noted.
Practical conclusions about chicken anemia virus
Banda offered the following conclusions:
CIAV is a very-resistant and difficult-to-control immunosuppressive virus that constitutes a serious economic threat
Clinical or subclinical CIAV infection may increase susceptibility and pathogenicity to other pathogens
Effective vaccination of the breeder stock ensures high, homogeneous and long-lasting level of maternal antibody titers in the progeny
Level of attenuation of the CIAV vaccine used may induce different level of immune response
Vaccination and post-vaccination monitoring in the breeders and progeny ensure effective protection against CIAV and decreases the economic losses
To view an archive of the webinar, register for upcoming webinars, or see on-demand webinars on related topics, visit www.wattagnet.com/webinars.aspx.