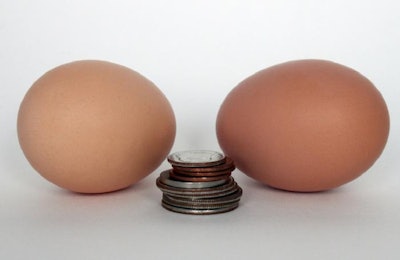 Michael Foods – the egg, potato, cheese and pasta unit of Post Holdings -- achieved increases in net sales and profits for the fourth quarter of fiscal year 2017.
The company recorded net sales of $537.2 million, an increase of $14.6 million when compared to the fourth quarter of fiscal year 2014, Post Holdings stated in a press release. Net sales for the year were down 3.1 percent to $2.1 billion.
Post Holdings also noted that the Michael Foods segment profit was $61 million for the quarter, and $133.1 million for the full year. The quarterly profits were up by about a third, but the yearly profits were less than half of those recorded in 2016. The profits were negatively impacted by legal settlements related to egg antitrust class action claims, the company stated.
Michael Foods' egg sales for the quarter were "relatively flat" for the quarter, although the volumes increased by about 3.5 percent. The Michael Foods segment also faced challenges related to a decline in cheese sales and the exit of certain private label businesses.
Michael Foods is the eighth largest egg company in the United States. In 2016, it had a flock of 12.96 million hens.
Post Holdings' proposed acquisition of Bob Evans Farms
During the fourth quarter, Post Holdings announced that it was going to acquire Bob Evans Farms for a price of $77 per share or about $1.5 billion. Upon completion of that transaction, the company will restructure. Under the restructuring plan, the Bob Evans unit will handle Post's refrigerated retail business and the Michael Foods unit will handle the commercial foodservice business.
That acquisition is expected to be completed during the second quarter of fiscal year 2018, pending customary closing conditions including the expiration of waiting periods under U.S. antitrust laws and approval of Bob Evans shareholders.