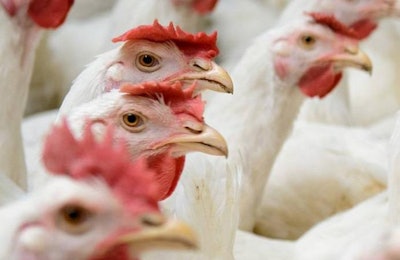 The first-ever Poultry Tech Summit brought together tech innovators, venture capitalists and poultry companies from 20 countries to triangulate on the next generation of technology that will solve problems and open new opportunities in poultry production.
Italy, the United Kingdom and Russia are each home of two of Europe's top 10 poultry companies, while the largest company is from France.
California voters approved the Proposition 12 ballot measure, which calls for all eggs produced or sold in the state to come from cage-free laying systems by the end of 2021.
Animal rights group Compassion Over Killing (COK) is using an undercover video that was apparently filmed at the Amick Farms poultry processing plant in Hurlock, Maryland, as a platform to pressure the U.S. Department of Agriculture to lower the maximum allowable line speeds at U.S. poultry plants.
Noel White, the new CEO of Tyson Foods, says the company's decision to acquire Tecumseh Poultry earlier in 2018 has proven to be a good one.
There's much to look forward in the future of the poultry industry, according to the managing director of Tyson Ventures.
More than 1 million tons of animal feed in Europe could be contaminated with a banned genetically modified (GM) feed additive that may be resistant to antibiotics.
Hain Celestial's Hain Pure Protein segment experienced a rough start to its 2019 fiscal year, as the organic and antibiotic-free poultry producer experienced an operating loss of $19.5 million for the first quarter, which ended on September 30.
A fire at a Foster Farms feed mill and another fire at the Valley Proteins portion of a Perdue Farms occurred within the past week, with the Foster Farms fire taking place on November 14 and the Valley Proteins/Perdue fire occurred on November 16.
Benjamin Ruiz: Austrian medical scientists discovered something that I had never thought of: We likely have microplastics (PVC and PET) in our intestines.