kharhan | BigStock.com
U.S. consumers are living in the worst period of price inflation since the early 1980s. Now, they are looking for cheaper options like chicken thighs and leg quarters.
According to the Conference Board's Consumer Price Index, year-over-year prices on necessities are up by more than 8%. Wages are not rising at the same rate, so people are searching for more economical choices. '
Cheap chicken?
Chicken is consistently considered the cheap choice. Recent trends prove otherwise.
For more than a year, spot prices for bone-in whole wings, tenderloins and boneless skinless chicken breasts occasionally exceeded $3 per pound on U.S. Department of Agriculture's daily quote sheet (Northeast region).
Consumers are paying between $4 to $5 per pound or more for these items. Cuts from the front half of the bird aren't as advantageously priced, relative to beef and pork, as usual.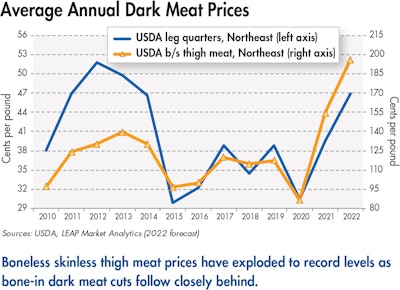 Dark meat prices
Prices for front half cuts are high even with production and supply metrics at record levels. Back half cut prices are following suit.
Bulk leg quarter prices averaged just under 40 cents per pound overall last year (USDA Northeast), after averaging just 35 cents per pound from 2016 to 2020. Boneless skinless thigh meat prices briefly topped $2 per pound last year and averaged $1.55 per pound overall in 2021.
Bone-in dark meat cuts remained a holdout for a while but the affordability was too enticing for buyers. Spot leg quarter prices recently blasted into record territory above 60 cents per pound. Boneless thigh meat remains ascendant as well, trading between $2.25 and $2.50 per pound so far this summer. It's on track to average nearly $2 per pound overall this year.
Analysis
Dark meat – bone-in cuts, in particular – is sometimes maligned for having limited value outside of what can be fetched in the export market. Nevertheless in this inflationary environment, even domestic buyers should have a difficult time ignoring what this segment has to offer.
Consumers grew fond of protein during the pandemic. That trend won't reverse so easily, even with prices increasing across the board. This means there will be a stronger inclination toward products that are much more budget-friendly. Dark meat should be the big winner on that front.