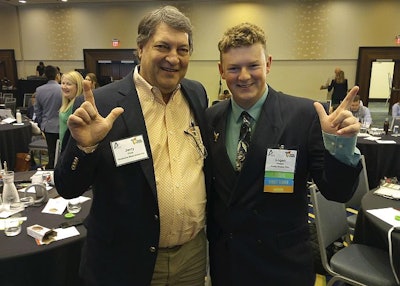 As I stepped into one of the biggest meetings of great minds in agriculture, I thought, "Wow. I am a piece of a very large puzzle."
This would hopefully be the thought of any high school or college student present at the Animal Agriculture Alliance Stakeholders Summit. It seemed like the Super Bowl of production agriculture, and I was right at the center of it all.
Since I can remember, I've been in a small Kansas town surrounded by agriculture, but when you're just a little fella you don't always understand the scope of the things around you. However, at the 2023 summit, held May 3-5 in Arlington, Virginia, I saw the scope. I was blessed to see the pillars of production agriculture not only in a conversational setting but also in the formal, presentational setting.
The summit was quite a sight for my young eyes. I tried to take everything in, but there was a lot of information, names and stories.
I had the pleasure to meet many important people, including one of the main presenters, Ray Starling, president of the NC Chamber Legal Institute. My first impression of Ray was pleasant and humorous. He sealed that impression when as I shook his hand, he looked down on my outfit which was a suit and tie and said: "Nice tie. Don't wear that to my presentation. We keep it casual where I'm from." That small but impactful interaction will not leave me soon. Ray made an impact on not only my summit experience, but I would guess everyone else's.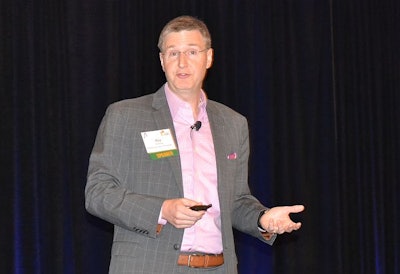 Ray Starling (Roy Graber)
Another smiling face which made my trip even more worthwhile was that of Jerry Fitch from Oklahoma State University, where my FFA advisor Mr. Cody Day graduated from. Mr. Fitch was a wonderful soul to be seated next to. I learned that Mr. Fitch also drives a hard bargain after I asked him why someone interested in agricultural communications should attend OSU. He said, "Well first I'd tell you to double major in Animal Science and Ag Comm." Which promptly made me investigate OSU courses and find out that they have a double major of ag business and ag communications, which put OSU on the top of my radar for potential colleges.
As a sophomore in high school, hearing Mr. Fitch's and Ray Starling's kind words and humor made me appreciate the summit that much more. These men also embodied what I feel every person needs to succeed in agriculture which is humor, a firm handshake and confidence in themselves and furthermore in American farmers.
Steve Olson was also among the great people in attendance at the summit. The reason it was so nice to meet him was not only because he is a great mind and person, but also someone who enjoys working with students and was a good resource as I raised funds for my FFA exchange trip to Spain this summer. The summit was a way to bring us together, our paths crossed because of the summit, and I am thankful for the opportunity to shake hands and be eye to eye with Steve.
People were obviously a huge part of the summit but perhaps the biggest part of the summit was the information. Information controlled the room. The person presenting made it that much more impactful. I learned from Johan van Arendonk that turkey's breast growth can be tracked through CT equipment. I also learned that an establishment stereotypical of having extreme anti-farmer customers is even trying to be more on the sustainable agriculture side of things from Angela Anderson, who represented Starbucks. Those are just two of many lessons I learned at the summit.
The wealth of knowledge is plentiful at that event, and I would highly recommend it to any high school or college student interested in agriculture.
The summit provided me with opportunities to network and meet people who are at the forefront of innovation in production agriculture. As a Kansas farmer and citizen, I see the opposition to agriculture everywhere and events like the summit give me even more confidence in agriculture and myself to pursue a career in it.
I took a lot of lessons from the summit but overall, the minimum that can be taken away is that agriculture and farmers like Matt Fry, who spoke in a panel during the summit, will not be stopped by misinformation and propaganda.
The farmers of the world are overshadowed and events like the summit are a way to take away that shadow and put a spotlight on the amazing things agriculture does for every single person on this planet.
I'd like to thank everyone who attended the summit for my great experience and also extend a thanks to WATT Global Media who granted me permission to travel with my father to the summit.
I'm already excited for next year!