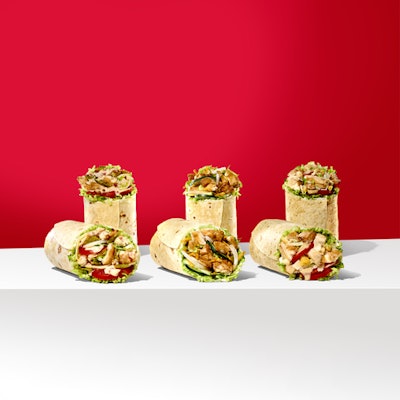 To celebrate the start of summer, Jimmy John's is reintroducing a few chicken items to its menu: the Chicken Caesar Wrap, the Thai Chicken Wrap and, a new addition, the Jalapeño Ranch Chicken Wrap.
"At Jimmy John's, we are known for our fresh, made-to-order sandwiches and are constantly innovating to bring our customers bold and unexpected sandwich experiences," said Dustin Hilinski, director of culinary innovation at Jimmy John's. "That's why we have raised the bar this summer by offering three delicious wraps, each with unique flavor combinations, including the new Jalapeño Ranch Chicken Wrap, perfect for those who crave a little kick in each bite."
Chicken Caesar Wrap: This chicken wrap comes with all of a Caesar salad's classic ingredients like croutons, parmesan and Caesar dressing in a garlic and herb wrap.
Thai Chicken Wrap: The Thai Chicken wrap comes with Thai satay sauce and carrot noodles in a flour wrap.
Jalapeño Ranch Chicken Wrap: The new chicken wrap brings the heat with jalapeño ranch, jalapeños, red pepper flakes and provolone in a flour wrap.
All wraps are available for $8.99 at participating locations.
The temporary addition of the three wraps are the only chicken options on the menu, but there are multiple turkey options like the Country Club and Beach Club sandwiches.