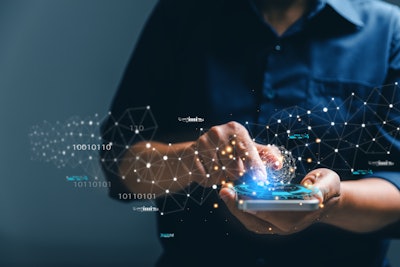 jd8 | BigStock.com
Artificial intelligence (AI) is popping up in just about every industry, and animal health and nutrition is no exception. Companies including DSM-Firmenich are collecting hundreds of thousands of data points on livestock and poultry to monitor animal health and performance, and to detect and predict challenges to address them earlier. AI can make sense of all that data to help producers make the right decisions for their operations.
"We're moving into an era where data complexity and volume could be simultaneously the biggest opportunity we have in our sector, and also the biggest challenge that we have," Aaron Cowieson, senior science fellow at DSM-Firmenich, told Feed Strategy in an interview during the 2023 World Nutrition Forum (WNF).
But is there such a thing as too much data?
"I don't think that you can have too much, but you can have data that's more or less relevant," he said. "And that's where you need to use the machine learning and artificial intelligence, because the human brain can't parse all of that data simultaneously."
DSM's Verax precision service helps veterinarians, nutritionists and operations make better decisions about their animals' health using blood biomarkers, which can detect performance issues.
"We're basically taking biomarkers and animal metadata, performance data, mortality figures, health status and so on, and creating models that will use the biomarkers to predict disease occurrences and prevalence and severity," Cowieson said. "In broilers, specifically, it's blood biomarkers that we're taking because we have easy access to blood because there's routine necropsies."
He said the company is also working on non-invasive biomarker collection – "sensors and devices that can monitor things passively without even interfering or picking up that animal."
Blood biomarkers can detect signs of nutritional deficiencies or disease sooner and the use of real-time data can correct them. Data is tracked and analyzed in a digital application using machine learning, and the app makes recommendations benchmarked against industry data, and action can be taken immediately.
"With something like coccidiosis, for example … we can see changes in the blood," Cowieson said. "Another simple example that we're seeing in broilers in the winter months, a very unique biomarker pattern that's not there in the summer associated, we think, with respiratory challenges that are occurring in the winter. So, they get this kind of respiratory acidosis signature that's appearing. Those kinds of things you can then anticipate for next winter, and you might want to make some different choices around ventilation or around diet and so on."
Using metadata to be better informed
By gathering data about data – or metadata – health and nutrition programs can be more precise, according to Raj Murugesan, head of global poultry at DSM-Firmenich, who also spoke to Feed Strategy during the WNF.
This means not only collecting, say, blood and gut samples from a bird during a necropsy, but also gathering data on how the bird was raised, where the feed was coming from, the type of ingredients, feed formulation, etc.
"All of the metadata is connected. And, for each data point, there are hundreds of branches or variables," Murugesan said. "This is where bioinformatics plays a crucial role – it's all about arithmetic – when I change this little thing here, how does that lead to this whole butterfly effect? Without those links, if you're just looking at the body weight gain, feed conversion ratio (FCR), mortality … you're seeing it, but you probably don't know why that's happening."
Using metadata helps connect the dots, he said.
"This is where AI can predict what will change based on altering just one data point. For example, if you tell the AI that you are changing from one source of amino acid to another, it will have the statistical power to potentially predict the outcome based on the data that has already been collected," Murugesan said.
Because there is still a good number of producers of all sizes that are recording data using pen and paper, he said DSM-Firmenich's goal is to have all of its producers using one digital program where the data is automatically collected using sensors or entered through a digital device. The data is then stored in the cloud and accessible from anywhere.
By predicting problems, AI can stop them from happening in the first place. The result can be improved profitability, better sustainability and higher animal welfare.