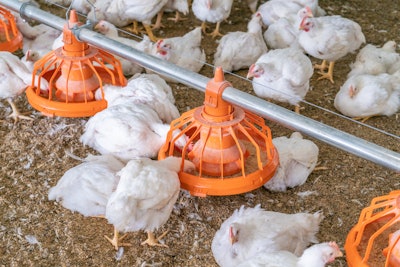 Courtesy Big Dutchman
Brazil-based BRF set out to improve the feed conversion ratios (FCRs) for its broilers and pigs during the 2023 fiscal year and, so far, it is seeing success in that effort.
Upon the August 14 release of the company's second quarter of the fiscal year, BRF said it had initiated projects to improve feed conversion and agricultural efficiency in its feed facilities in Carambei, Parana; Dourados, Minas Gerais; Nova Mutum, Mato Grosso do Sul; Uberlandia, Minas Gerais; and Catanduvas, Chapeco and Concordia, all in Santa Catarina.
In the company's quarterly report, BRF CEO Miguel Gularte, described the FCR as "among the best in BRF's history."
To date, the company said, FCRs for BRF chickens improved 2.3% on a year-over-year basis and 1.8% on a quarter-over-quarter basis, while FCRs for pigs improved 1.3% of a year-over-year basis and 0.7% on a quarter-over-quarter basis.
In addition, BRF invested in its feed production facilities in Uberlandia and Gaurama, Rio Grande do Sul, to increase feed production at those sites.
The investments and attention to feed operations are part of the company's efficiency plan, BRF+, which the company began implementing in September 2022. Gularte said the company has made "consistent progress on all work fronts" since implementing the program, and that the financial gains made as a result of BRF+ are "materializing faster than we expected."
BRF, according to the Feed Strategy Top Feed Companies survey, is Brazil's second largest feed producer, with 27 feed mills and an annual production of more than 10 million metric tons. Globally, it ranks as the ninth largest feed producer.
BRF also ranks as the second largest broiler producer in Brazil and the third largest in the world, having slaughtered about 1.7 million chickens during the past year.