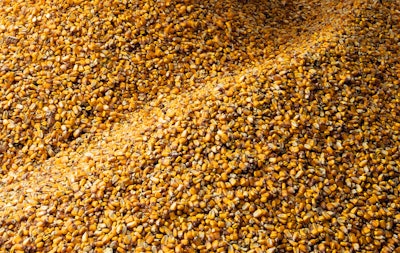 Nancy Louie | iStockPhoto.com

With a hefty tax on the importation of a key feed ingredient — corn — prices of poultry products in Sri Lanka have risen above the world average.
However, the government has announced a reduction in import levy, reported Economy Next last week.
Now down to 25,000 Sri Lankan rupees (LKR; US$77.20) per metric ton (mt) from LKR75,000 previously, the lower import duty is aimed at reducing the cost of animal feed, said the finance minister. It could also open opportunities for Sri Lanka to export poultry meat and eggs.
According to this source, the high import duties have pushed up the prices of poultry products, making them unaffordable for poor families, and leading to child malnutrition.
Furthermore, poultry farmers put some of the blame for the situation on corn traders. This group, they allege, control the market and make large profits in their businesses.
Lower poultry prices forecast
It will take around two weeks for the reduction in corn import tariff to feed into chicken prices, according to the national poultry organization.
Sri Lanka's Daily Mirror reports that the All-Island Poultry Farmers' Association welcomed the change in import duty. From the current LKR1,350 per kilo, it forecasts frozen chicken prices to fall by LKR100 in two weeks. The organization is uncertain how the change will impact prices of fresh poultry meat.
It says eggs could be selling for LKR40 each by the end of this year.
In this South Asian state, feed accounts for 70-80% of the cost of chicken. Domestic corn production does not meet demand, and availability of alternative feed grains is limited. As a result, Sri Lankan feed and poultry producers rely on corn imports.
According to the Association, the import duties were originally introduced by the government to protect domestic corn growers. It says that the partial lifting of the duty will not impact local production as imports will only fill the gap in demand.
Sri Lanka's corn market
Corn is the key ingredient used in animal feed production in Sri Lanka, according to a report on the market by the USDA Foreign Agricultural Service (FAS) earlier this year.
For the last marketing year — October 2021 to September 2022 — local production was estimated at 187,000mt. The figure was around 40% lower than the five-year average. This reflected reduced levels of planting and fertilizer use, according to FAS.
In January of 2020, Economy Next reported that Sri Lankan corn production amounted to 250,000mt, while the annual requirement for poultry feed was 600,000mt.
Another South Asian state has recently experienced a sharp spike in poultry product prices. As a result, the government of Bangladesh is examining a range of measures to keep these key food products affordable for the population, and to stabilize the poultry industry.