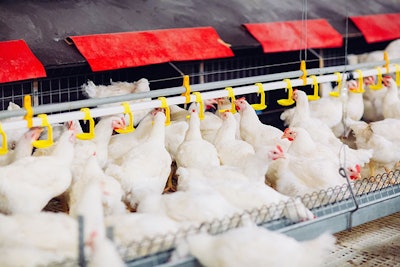 An innovative approach that uses neural networking techniques to help determine how feed additives affect the health and well-being of poultry flocks has entered the testing phase.
"It's a big question mark area of from an integrator point of view, how do you know that you're getting the value that you're being sold. From a nutritional supplement producer point of view, they want to demonstrate good value so that they can capture it," Will Payne, Ph.D., chief technology officer, Simple Ag Solutions Inc., explained.
The software uses neural networking, a form of machine learning, to predict the effectiveness of a feed additive on a broiler's future weight. Better yet, the software learns more the longer it is in use, which means future recommendations could be further customized directly to a poultry farm.
The platform is currently in trials with an integrator and nutritional supplement company. This pilot phase is expected to be completed by January 2022.
Highlight your innovation
The platform was one of the innovations highlighted at the 2020 Virtual Poultry Tech Summit.
"When we presented at the Poultry Tech Summit back in the fall, that was the first time we really went public with this idea of helping integrators quantify the value of nutritional supplementation or feed interventions," Payne said.
"The Poultry Tech Summit helped move the process along and to take a stance of we're officially doing this."
The 2021 Poultry Tech Summit will be held as an in-person event at the Georgia Tech Hotel & Conference Center in Atlanta, Georgia. This exclusive event is seeking abstracts and applications for innovators and technology presenters.
To submit your innovation or technology presentation for review, please visit https://bit.ly/38F9JpD to apply and submit your abstract by April 30, 2021.
Attend the 2021 Poultry Tech Summit
Join an exclusive international gathering of industry-changing innovators, researchers, entrepreneurs, technology experts, investors and leading poultry producers at the 2021 edition of Poultry Tech Summit on October 31 - November 2 in Atlanta, Georgia. Attendees can expect the same groundbreaking innovation and insightful presentations that made the previous events well-attended with deep dialogue on new prospective solutions and developing technologies.
Like what you just read? Sign up now for free to receive the Poultry Future Newsletter.