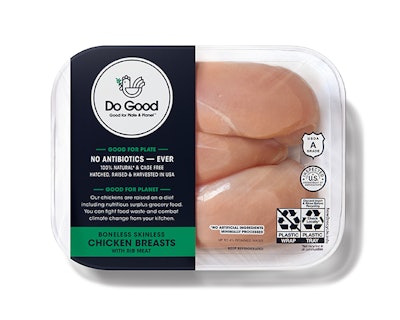 Do Good Foods
Do Good Foods, a climate-forward food company that upcycles leftover grocery store food into animal feed, filed for bankruptcy.
According to a Chapter 11 bankruptcy petition filed in Delaware on June 16, the Bedminster, New Jersey-based company listed estimated assets and liabilities totally $500 million. Under the terms of Chapter 11, Do Good Foods will continue operations while seeking approval of a plan to repay creditors.
Do Good Foods did not respond to a WATTPoultry.com request for comment.
In 2021, Justin Kamine, co-founder and co-CEO of Do Good Foods and Bob Davenport, chief sales officer for Do Good Foods, told WATTPoultry: "This will be a game-changer in sustainable proteins. Consumers are increasingly conscious of how their food choices impact the planet and are choosing products and brands they feel share those values. They also don't want to give up foods they love, like chicken."
Do Good Chicken is fed a diet made from upcycled surplus food from grocery stores. Each chicken product prevents four pounds of food waste from being sent to a landfill and avoids the generation of approximately three pounds of greenhouse gases, the company said.
In addition to its carbon reduced chicken, the company also sells carbon reduced eggs.
The company diverted approximately 27 million pounds of surplus food from going to landfill in its first year of operation, according to a press release.
The first Do Good Foods production facility, located in Fairless Hills, Pennsylvania, can convert 60,000 tons of surplus food each year, which could feed 25 million chickens. A second animal feed production facility was set to open in Fort Wayne, Indiana, by the end of 2024.
The company is backed by a $169 million investment from global investment manager Nuveen.