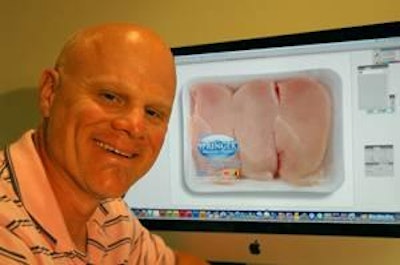 Fieldale Farms of Baldwin, Ga., is practicing a key sustainability concept – recycling – to strengthen its poultry brand image, improve its standing with customers and save money in the bargain.
"Sustainability is definitely a business," said Shane Williams, Fieldale's director of sustainability. "We were looking at ways to save money."
The company moved to improve its environmental profile in 2010. This was in keeping with corporate goals and the image of its all-natural Springer Mountain Farms brand, which has antibiotic-free, American Humane Certified, and all-vegetarian diet among its chief brand attributes. The company also promotes its careful environmental management of the farms that produce the Springer Mountain Farms chickens.
Springer Mountain Farms is a significant and growing portion of Fieldale's overall production, Williams said, with a "higher-end customer" and a more expensive product. The brand is increasingly moving into foodservice channels, where a "green" reputation can appeal to consumers.
Comprehensive waste and recycling services
While the concept of sustainability covers many concerns, waste avoidance and recycling are high on the list. If a company can keep material out of the landfill, that reduces its environmental footprint.
The immediate challenge in trying to improve Fieldale's environmental performance stemmed from the simple fact of its location in rural northeast Georgia, where the local waste and recycling service is not as well-developed as it typically is in metropolitan areas. Fieldale's processing plants sent corrugated paper to recycling to some extent, but there was no overall, company-wide program. Fieldale's search for a sustainability partner led it to Southern Waste & Recycling of Atlanta.
"We are a management company that provides comprehensive waste and recycling services to clients," said Phil Kitchens, president of SW&R, which he founded ten years ago. The company finds vendors to recycle materials from its clients, and, if the volume is big enough, can actually share revenue with the client.
"You can find a recycler to do certain things, but not one company to do everything," Kitchens said in an interview with WATT PoultryUSA. "And that's the difference in our company. We have a management business model. If a recycler doesn't work out, we can replace it with another."
Audit revealed recycling opportunities
SW&R conducted an audit of Fieldale's headquarters in Baldwin, slaughter plants in Cornelia, Ga., and Murrayville, Ga., and further processing facility in Gainesville, Ga. It recommended a focus on office paper, corrugated paper, plastic wrap and bags, and beverage cans. Fieldale bought and deployed "hundreds" of blue desk-side containers to capture office paper, Williams said, plus larger "totes" in the break rooms and other locations for cans and plastics.
The first task, of course, was selling employees on participating in the program and using the new receptacles.
"Once everyone got on board, they were excited about it," Williams said. "By and large, people want to do what is right in that way. It is a top of mind thought now, being green and doing what you can for the environment."
"It's nothing complicated," Williams noted, and once employees learned what needed to be recycled "it's been very successful. The biggest success is in office paper. We never recycled office paper before." Plastic sheeting, plastic bags and aluminum cans are also collected, plus surplus poly wrap.
Corrugated paper means recycling tonnage
The largest tonnage, however, is in corrugated paper. Every poultry plant is knee-deep in corrugated boxes because essential items such as foam traypacks arrive at the plant in boxes. The further-processing plant receives bags of ingredients in corrugated boxes. Fortunately, corrugated paper is one of the most commonly recycled materials in the country.
The slaughter plants already had equipment for handling corrugated waste, and Fieldale purchased a unit for the Gainesville plant. Corrugated waste is loaded into the balers, crushed to a half or a third of its original volume and bound with metal straps. The resulting bales, weighing 800 to 900 pounds each, are loaded onto a SW&R trailer parked at each facility and picked up on a biweekly basis.
SW&R can also handle special situations, such as a trailer load of used egg crates that Fieldale's hatchery wanted to get rid of. It found a buyer and took the load off Fieldale's hands.
The waste and recycling management firm handles the material until it reaches a recycler or other "consumer," Kitchens said. While some of the material is reprocessed in the United States, some goes offshore, he added.
"The idea behind it is mainly to avoid cost," he said. "The cost of recycling is less than the original process of managing trash through landfills."
Shrinkage of landfill space and overall environmental concern has made recycling more prominent in last several years, Kitchens said.
"Corporate America is embracing the idea of recycling and specifically landfill avoidance," he noted. "Many companies are trying for zero landfill exposure." Most dry waste – paper, plastic, cardboard, glass, aluminum, etc. – can be recycled, and the technology is improving constantly, with lasers and other devices used to separate materials from "single stream" collection, avoiding the need to separate different materials, he said.
Managing trash and saving money
In the greater Atlanta area, managing trash costs an average of around $70 to $75 per ton, a cost that can be avoided when the material is recycled instead. Fieldale is saving $7,500 to $10,000 per quarter just by keeping material out of landfills, Kitchens estimated.
An important service offered by SW&R is detailed reporting back to the client. The reports break out waste material by each facility in the company, by the type of material, by how much was recycled, and how much ended up being landfilled, among other measurements. "Anything regarding environmental performance is more desirable now," Kitchens said.
Reports show that Fieldale has recycled more than 100 tons per quarter, information that Williams and Kitchens agree that Fieldale can share with its customers to show that the company is doing its part to preserve the environment. The data also allows SW&R to fine-tune scheduling of pickups.
"Sustainability, from our perspective, is creating a reliable program that measures performance," Kitchens said.
Global Reporting Initiative
Williams was well aware of the importance of documenting the company's efforts in sustainability. Early in his tenure as the sustainability honcho, he completed a report prepared to the specifications of the Global Reporting Initiative, the most widely used framework for reporting a company's environmental and social responsibility. It includes parameters such as use of materials, energy and water; environmental impact such as air emissions; labor issues such as worker health and safety; and broader issues such as community impact and product safety. He found that Fieldale was already addressing many of the areas addressed in the report. The self-audit resulted in a rating of B+.
Williams feels Fieldale can do even better improving the recyclability of its materials. For example, the wax-coated corrugated paper boxes used for wet-packed product are not recyclable. Fieldale is working with International Paper to try to develop paperboard that is coated with chicken fat instead of wax. This would make the material acceptable for recycling, affecting 10% to 20% of the boxes used by Fieldale.
Fieldale also worked with its suppliers to slightly modify its paperboard boxes to reduce the use of virgin material. By widening the gap between the flaps by a mere quarter of an inch, the company saved 105,000 pounds of material.
Environmentally friendly packaging
Looking ahead, Shane thinks the industry will do away with foam traypacks and will find an environmentally acceptable material for retail packaging.
"The big thing we're going to see is use of more environmentally friendly materials and packaging," he said.
For Williams, the commitment to environmental performance and sustainability is not just business, it's personal. He grew up in nearby Clarksville, Ga., enjoying the outdoors. He likes to take his three sons canoeing on the Chattahoochee River, paddling downstream and reeling in fish.
"We are at a major crossroads now in the environment where we need to go down the greener road to save our environment and have it be around for the kids," he said.