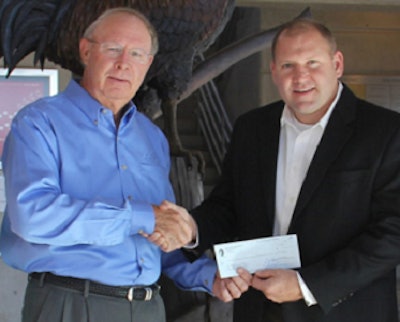 The USPOULTRY Foundation recently awarded an $18,377 student recruiting grant to the Poultry Science Department at the University of Arkansas. The check was presented by Bill Bradley, vice president of egg production for CCF Brands and USPOULTRY board member, to Dr. Mike Kidd, director of the Center of Excellence for Poultry Science and head of the Department of Poultry Science, University of Arkansas. Justin Whaley, president of CCF Brands, assisted in the check presentation.
"We will use the funds to recruit future industry leaders into our department. These funds are vital for our recruitment efforts that encompass both high school and community college programs. Our growing undergraduate numbers are a reflection of USPOULTRY's support via the USPOULTRY Foundation, "said Kidd.
The USPOULTRY Foundation board recently approved student recruiting grants totaling more than $183,000 to the six U.S. universities with poultry science departments and 14 other institutions with industry related programs. The foundation provides annual recruiting funds to colleges and universities to attract students to their poultry programs.