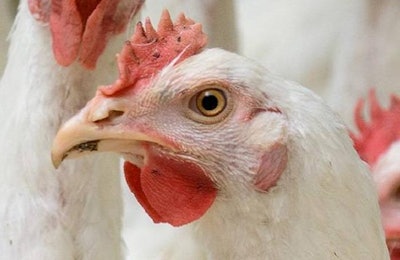 Ukrainian-based agro and industrial holding, Mironivsky Hliboproduct (MHP), has reported improved financial reports for the third quarter of its fiscal year, and announced its registered office has moved to Cyprus and the appointment of a new non-executive director.
For the third quarter of 2016, MHP was reporting a negative net profit margin, but the grain, poultry and meat processing group has turned that loss into a positive margin of 13 percent for the same period of this year. Total revenue is up nine percent to US$370 million, and operating profit has risen to US$92 million, an increase of 24 percent.
MHP's performance for the first nine months of 2017 shows even greater improvement in terms of total revenue—up 18 percent at US$970 million. Net profit for the period has jumped 150 percent to US$257 million.
Foreign exchange (forex) fluctuations partly explain MHP's changing fortunes. However, net profit margin before forex for the quarter increased from 12 percent in 2016 to 17 percent this year, and for the nine-month periods, it stood at 23 percent, and 24 percent, respectively.
For MHP's poultry business, production for the quarter was down two percent to just over 137,000 metric tons although average prices in local currency, hryvnia (UAH), were up 35 percent from the same period of last year.
MHP reports its poultry production facilities were operating at near full capacity throughout the first nine months of this year, and output was down only marginally from the same period of 2016 at 424,700 metric tons.
Increased sales of chicken meat to the European Union, Africa, United Arab Emirates and the Kingdom of Saudi Arabia helped increase the firm's exports by 23 percent so far this year to more than 176,000 metric tons compared with the first nine months of 2016.
MHP reports the construction of the next phase of expansion of its poultry complex in Vinnytsia is on schedule for completion in mid-2018. As a result, next year's production is expected to increase by 35,000 metric tons, and by 260,000 metric tons by the time the expansion project is completed in three years' time.
Company changes
A move of the firm's registered office and central administration from Luxembourg to Cyprus has been approved by shareholders.
With immediate effect, Raymond Willian Richards has been appointed non-executive direction of MHP until 2019. The move follows the resignation of non-executive director, Philippe Lamarche, in October.
In August of 2017, MHP converted from a public limited liability company into a European company ("Societas Europaea").
Earlier this year, MHP opened a new poultry processing plant in Slovakia in cooperation with one of its distributors in the EU. Aims of this new cutting facility are to provide European customers with MHP's commodity products as well as packaged poultry meat for food services.