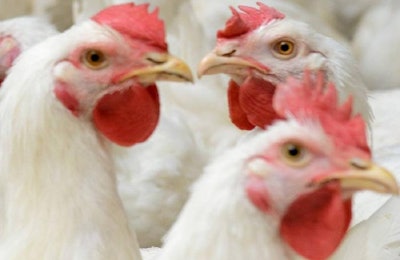 A major integrated poultry processor is apparently culling some broiler flocks due to low attendance in its processing operation as a result of COVID-19.
According to local press in Salisbury, Delaware, Allen Harim Foods LLC began depopulating birds in the field on April 10, 2020. A letter published on Facebook by local media, apparently authored by Michele Minton, Allen Harim's director of live operations, said the decision was made due to declining plant attendance.
"Over the last two weeks, Allen Harim's plant attendance has continued to decline and is now at 50% normal operation," Minton said in the letter to Allen Harim growers. "We are no longer able to harvest the amount of birds needed daily or weekly to maintain target weights and ages."
The letter went on to say Allen Harim already reduced the number of eggs set and chicks placed, but those actions won't make an impact until the middle of May 2020.
"With the continued attendance decline and building bird inventory daily we were forced to make a very difficult decision," Minton said. "Starting Friday, April 10, we will begin depopulating flocks in the field. … Growers whose flocks we depopulate will be fairly compensated by Allen Harim."
The reason behind the low attendance is purportedly the growing outbreak of COVID-19. As of April 12, 2020, there were more than 525,700 confirmed and presumed cases of the disease and more than 20,400 deaths attributed to the disease in the U.S., according to the Centers for Disease Control and Prevention. The disease is already affecting the poultry industry as well as other meat packing operations.
In an email to WATT Global Media, Delmarva Poultry Industry Inc (DPI) Executive Director Holly Porter said a difficult but necessary step was taken to humanely depopulate birds on farm. DPI is the trade association working for the common good of the chicken industry located on the Delmarva Peninsula. She said there is currently one company on the peninsula practicing what she called a last-resort option.
"The company will depopulate nearly 2 million chickens on several farms in both Delaware and Maryland using approved, humane methods – the same methods approved for depopulation in cases of infectious avian disease," Porter said. "The methods used are accepted by the American Veterinary Medical Association and all state and local guidelines."
The company, she said, exhausted all other options – including allowing another chicken company to transport and process the chickens and taking a partially processed product to rendering facilities to utilize for other animal feed – before taking the action. It will compensate the affected growers for their contracted work, she said, and is not closing any processing plants.
Allen Harim did not immediately respond to a request for comment on the letter.
As a result of the outbreak, many Americans are living with "stay-at-home" orders in order to limit the spread of the disease. The region's constituent states of Delaware, Maryland and Virginia are all currently under such orders.
"Reduced employee attendance at chicken processing plants is an issue on Delmarva and across the U.S.," she said. "Additional cases of COVID-19, additional testing, and people practicing the 'stay home if you're sick' social distancing guidance from public health officials has led to reduced employee attendance at every chicken company processing plant on Delmarva."
Across animal agriculture, operations are affected by the disease. On April 13, 2020, Smithfield Foods' pork processing plant in Sioux Falls, South Dakota, was closed indefinitely one day after South Dakota Gov. Kristi Noem announced 240 Smithfield employees in the state were infected with COVID-19. That operation processes about 4% to 5% of the country's pork.
View our continuing coverage of the coronavirus/COVID-19 pandemic.