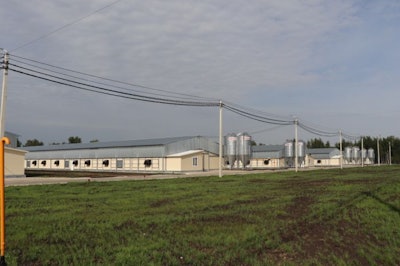 Cherkizovo Group and Spain's Grupo Fuertes opened a new facility of Tambov Turkey, the second largest turkey meat producer in Russia.
The second stage of Tambov Turkey will boost the facility's production capacity by 1.5 times to 85,000 metric tons per year.
The ceremony commemorating the occasion took place on July 14 in the Pervomaysky District of the Tambov Region. The new facility consists of three finisher sites and one nursery site, as well as a slaughterhouse, feed mill, incubator, and motor transport unit. The complex will be ramped up to full production by mid-2021.
The ceremony's guests of honor were Oksana Luth, deputy minister of agriculture, and Alexander Nikitin, head of the Tambov Region Administration. Together with Sergey Mikhailov, CEO of Cherkizovo Group, they took part in moving turkey poults to one of the finisher sites.
Tambov Turkey is a joint venture between Cherkizovo Group and GrupoFuertes, Spain's leading agricultural business group. In 2019, Tambov Turkey became the second largest turkey producer in Russia. The first stage of Tambov Turkey came on stream in 2015, and 2017 saw the first Pava Pava products. The brand's range includes chilled chopped meat and a variety of ready-to-cook products with natural spices. To make Pava-Pava products, the company uses a special extra lean turkey breed. In 2019, Pava-Pava won the Product of the Year award as the best Healthy Food product in the Turkey Meat category.
In total, the construction and launch of the second stage of Tambov Turkey will cost RUB 4 billion. Once fully commissioned, the facility's production capacity will be 1.5 times higher at 85,000 metric tons of live-weight turkey per year. Following the second stage, 250 new jobs will be created in the region.
Luth congratulated Cherkizovo Group on its expeditious work in completing the second stage: "I wish the group success and new projects in the Tambov Region."
"Tambov Turkey is a great example of public–private partnership on an international level. It makes me proud to have this facility in our region, and I am looking forward to seeing further social development in the rural area as the project grows. I am grateful to the partners for their cooperation. By expanding this facility, we will be able to become Russia's biggest turkey producer," said Nikitin.
"I would like to thank the Minister of Agriculture and Oksana Luth in particular for their roles in orchestrating truly effective government support programs that have allowed us to implement this project. I am also grateful to the Tambov Region administration for providing a comfortable environment for us to work in and engaging in a constructive dialogue. The fact that we were able to build the new Tambov Turkey facilities in the record time of eight months is largely attributable to the efficient cooperation between our company and the region's administrators," said Mikhailov.
"Today is a great day for Cherkizovo Group and Grupo Fuertes, as our Tambov Turkey project is taking yet another step towards becoming one of the most significant companies in Russia among food producers. We would like to congratulate all the employees who take part in this project and have contributed to its success. It will help us create even more jobs and boost the output of our safe and high-quality products that offer a unique taste experience," said Rafael Fuertes, executive president of Grupo Fuertes.