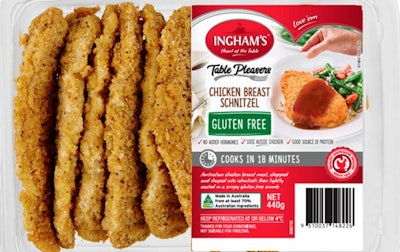 The premier of the Australian state of Victoria has issued Stage 4 lockdown measures for Victorian meat and poultry processing plants, leaving two plants operated by Ingham's to have to make adjustments.
Premier Daniel Andrews' order, which will become effective at 11:59 p.m. August 7 and will remain in place for six weeks, call for a 33% reduction in the workforce at meat and poultry plants in an effort to curb the spread of COVID-19, Ingham's said in a notice on its investor relations webpage.
The order affects two plants: one in Somerville and another in Thomastown.
Operations at the company's further processing plant in Thomastown were suspended on July 22 after five employees there tested positive for COVID-19. Ingham's said Thomastown operations resumed on August 3.
"Whilst we await the formal Victorian government directive to provide further certainty on the detail of the restrictions, Ingham's management are working through the implications for the reduced workforce at both our Victorian processing sites, and looking to minimize the impact of the restrictions through use of other processing sites in the Ingham's network and inventory that we have on hand," the company stated.
"Ingham's other primary and further processing plants in Australia and New Zealand remain operational and have continued to apply extensive employee safety and welfare protocols since the beginning of the COVID-19 pandemic. We are reviewing our operational plans at each of our Australian plants and continue to work with customers in order to best meet their requirements."
The order is not expected to impact operations at Ingham's hatcheries, feed mills, farms or logistics operations.
"The measures announced in Victoria will require our team to manage more complexity, but we are unwavering in our objectives of ensuring the health and safety of our people, preventing the spread of COVID-19 in our facilities and in Victoria, ensuring the highest standards of animal welfare, and servicing our customers and consumers in Australia and New Zealand," stated Jim Leighton, CEO of Ingham's.
The financial impact of the Victorian order will be better understood in the coming weeks as the company realigns its operations and the impacts of the lockdown on the company's supply and the demand for Ingham's products.
Ingham's, a publicly traded company, will release its annual financial results on August 21. The company intends to provide a further update on the Victorian situation at that time.
View our continuing coverage of the coronavirus/COVID-19 pandemic.