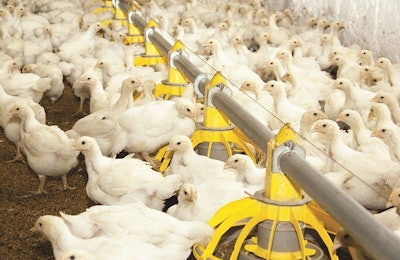 Getty Images/iStockphoto
Recovering broiler breeder performance delivered a larger than expected supply of chicks to a domestic industry dealing with sharply falling meat prices at the end of 2022.
Ready-to-cook (RTC) broiler production in the U.S. increased by 1.5% in 2020 and by 0.7% in 2021 despite breeder inventory growth exceeding 3% in both years. A historic collapse in breeder productivity, represented by average chick hatchings per layer, made this disconnect possible.
Changes to breeder inventories and productivity directly impact the number of birds available for slaughter. That's the primary variable affecting RTC production changes.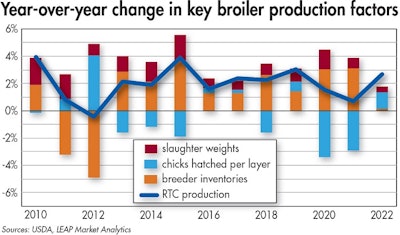 Breeder productivity slumps
It's difficult pinpointing factors affecting breeder productivity. It can result from animal biology as well as human influences.
Supply-chain disruptions, from the pandemic and a major winter storm in February 2021, almost certainly contributed to the downturn. Mismatches between hatchery capacity, on-farm growout capacity and end-user needs were alleviated by human intervention at the front end of the supply chain.
Animal biology was evidently a contributing factor to the slump, too. Industry insiders and hatchery managers widely discussed a rooster fertility issue as this unfolded.
Sudden growth
Productivity remained on a downward trajectory through the first quarter of 2022. Chick hatchings per layer increased by 1.5% from year-prior levels during the following quarter and increased again, by 2.3%, in the third quarter.
Breeder flock growth had stalled, but this uptick in productivity was still enough to flood the supply chain with chicks. More than 2.56 billion were hatched between July and September 2022, a 3.2% increase from the same period a year earlier.
Slaughter weights exploded suddenly at around the same time breeder productivity surged. This set the stage for an RTC production increase of about 5% from year-prior levels during in the fourth quarter of 2022.
Integrators tap brakes
Accelerating growth in RTC production unfolded as demand-side forces turned in an increasingly negative direction. This exacerbated downside pressures on broiler markets.
The weighted wholesale value of broiler meat, according to LEAP Market Analytics estimates, crashed to barely more than 60 cents per pound in December 2022 from more than $1.40 per pound in June 2022.
This understandably put the U.S. broiler industry in a difficult financial position, leading integrators to adopt an increasingly cautious approach.
The U.S. Department of Agriculture reported eggs placed in incubators slipped back to prior year levels in November and December 2022. However, given recent improvements in hatchability, chick placements continued to run nearly 1% above year-ago levels during this same period.
It appears broiler meat supplies will remain robust through the first few months of 2023.