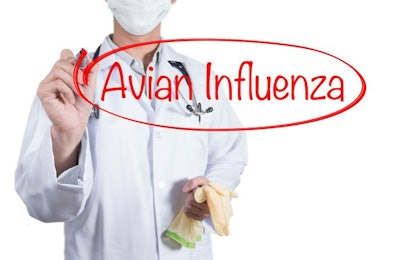 Following the confirmation of an avian influenza outbreak of highly pathogenic avian influenza (HPAI) of the H5N1 subtype at an exhibition farm on the Avalon Peninsula of Newfoundland and Labrador, Canada, officials say the virus has also been detected at wild birds that have appeared in parks in the province.
The initial case of HPAI was reported to the World Organisation for Animal Health (OIE) on December 22, 2021, which resulted in the death of 360 birds. Another 59 susceptible birds on the premises were euthanized.
At the time, the Canadian Food Inspection Agency (CFIA) stated: "In light of this situation, Canadian poultry owners are being reminded to take an active role in protecting their flocks by employing strict biosecurity measures on their property and immediately reporting any signs of illness to their veterinarian."
Since that time, the city of St. John's, Newfoundland and Labrador, issued a public notice on its website, stating that the virus has been detected beyond that farm and urging city residents to avoid wild birds at local parks.
"In response to recent testing, Environment Canada has confirmed the presence of the highly pathogenic avian flu in wild birds in the St. John's area, including Bowring Park, Quidi Vidi Lake and other areas frequented by flocks of birds," the notice read. "The public are asked to refrain from feeding, touching or handling wild birds including ducks, pigeons and gulls."
Maine on alert
The detection of avian influenza in eastern Canada also has animal health officials across the Canadian border in Maine on alert.
Anne Lichtenwalner, director of the University of Maine Animal Health Laboratory, told the Bangor Daily News that because the virus can easily be spread from Newfoundland and Labrador by wild birds, poultry owners in the state need to practice strong biosecurity.
"We're very lucky and it's wonderful here in Maine that a lot of times our backyard farms are isolated from other farms, (and chickens) can be allowed to free range … but it opens up the door to risk in that our birds can get exposed to wild birds," Lichtenwalner said. "We're free of it right now but that could change really fast."
View our continuing coverage of the global avian influenza situation.