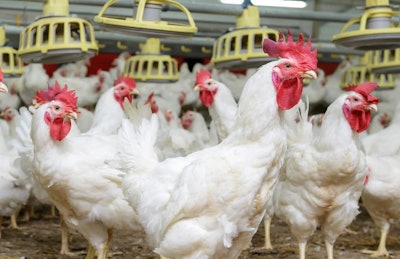 As the United States poultry continues to navigate through the highly pathogenic avian influenza (HPAI) outbreak, the CEO of the nation's largest broiler integrator says the outbreak's impact on the company's financial health so far has been minimal.
Tyson Foods CEO Donnie King, speaking during a conference call with journalists on May 9, said the company has a long history of proactively reviewing and addressing issues that pose challenges to the industry, and that has certainly been the case with the HPAI outbreak. For Tyson Foods, it has been its biosecurity program, King said.
"We have a biosecurity program and I will tell you it's robust in nature. We test every flock of broilers before they go to a processing plant. We've been doing that for years," he said. "Today, we have seen minimal, minimal impact on our operations."
To illustrate the strength of that biosecurity program, King gave an example of one farm where HPAI was confirmed.
"It really gives me confidence in our biosecurity program (to know that) we had a 12-house farm and we had it in one house, but we were able to keep the other 11 free of it, and that speaks of our biosecurity program," he said. "We feel good about our program. Yes, (avian influenza) is a risk, but we think we have great biosecurity measures in place to protect us."
International operations also protected by biosecurity
While at the time the conference call was held HPAI had been confirmed in 171 commercial flocks in the United States, affecting nearly 37 million birds, the virus has also been confirmed in flocks in Asia, Europe and Africa.
The broiler flocks grown in other continents for Tyson Foods are also well-protected, King said.
"To be short, we have very similar, if not the exact same programs in place around the globe," King explained.
To learn more about HPAI cases in North American commercial poultry flocks, see an interactive map on WATTPoultry.com.
Read our ongoing coverage of the global avian influenza outbreak.