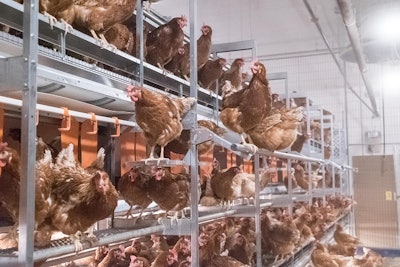 Feeding a postbiotic derived from Aspergillus oryzae (AO) can improve layer performance, productivity and egg quality, as well as reduce mortality.
"Feeding postbiotics will help satisfy the global industry's growing consumption of eggs and egg products," Dr César Ocasio, BioZyme Business Development and Innovation Manager, said at the 2023 International Production & Processing Expo (IPPE).
According to Ocasio, the AO-derived postbiotic called AO-Biotics EQE is the first that has been developed specifically for layers and has been shown to increase the number of saleable eggs and egg mass, while allowing producers to keep their layers in production for longer periods of time.
Because feeding the AO-derived product has been shown to reduce mortality, improves number of saleable eggs and contains microorganisms that add beneficial microbes to the gut, BioZyme believes that it will help satisfy the increasing demand for eggs and rising expectations for animal welfare globally.
"Now, through the AO-Biotics brand, BioZyme offers a new line of prebiotics and postbiotics, matched to specific animal health challenges, wellbeing and productivity. The way we have developed these products is truly innovative and a game changer for the industry," said Ocasio.
In validation and commercial studies, layers from 15 to 43 weeks of age fed 50 grams of the postbiotic per metric ton showed a 39% reduced incidence of shell-less eggs and 26% decline in mortality, compared to layers fed a control diet. Additional improvements were also noted in egg mass, shell thickness and feed conversion ratio.
"Our proprietary fermentation processes are backed by decades of knowledge and research that we are leveraging to enable passionate solutions to animal agriculture's challenges. That includes AO-Biotics EQE, which certainly delivers," stated Lisa Norton, BioZyme President and Chief Operating Officer.
More about AO
AO is a multi-cellular, filamentous fungus. Its genome contains dormant metabolic pathways that are activated when the organism is under certain stressors. This results in the production of unique metabolites that can improve animal health and gut health.
According to Ocasio, while many strains of Aspergillus produce toxins, AO has lost the capacity to produce toxins through genetic mutations, making it a safe organism to work with.