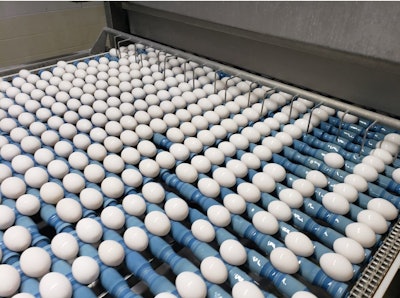 Courtesy Birko
Currently, a shortage in egg supplies and reduced product ranges for South African consumers are attributed to the simultaneous circulation of two variants of the highly pathogenic avian influenza (HPAI) virus in the poultry population.
For some time, poultry producers in South Africa have been contending with a series of major challenges.
Among these are consequences of the COVID pandemic, disruption of the electricity supply (load shedding), and rising input costs as a result of the war in Ukraine experienced worldwide were followed by long-term national disruption of the electricity supply ("load shedding").
Since April of this year, the country's poultry have been hit by not one but two serotypes of HPAI virus.
Just this week, South Africa's largest poultry company Astral Foods has announced it will hold a briefing session ahead of its next trading statement.
Among the agenda topics are how load shedding throughout the year has significantly impacted business, and how the company has invested to overcome the disruption to both power and water supplies. Furthermore, the firm describes the present HPAI challenges to the poultry business as "severe."
HPAI impacts poultry market in South Africa
For South Africans, egg shortages are already a reality.
In the past week, several retailers have posted signs in their stores, apologizing for egg shortages. Blamed for the limited volumes and restricted ranges are the ongoing avian flu outbreaks, reported Daily Maverick.
Already, the shortages appear to becoming acute in the province of Gauteng.
In Cape Town and Johannesburg, free-range eggs are no longer available. This is attributed to the confinement of hens in poultry houses in order to reduce the risk of infection from the HPAI viruses.
In a subsequent report from the same source, the South African Poultry Association (SAPA) said that 15% of production — more than four million chickens — had already been lost to HPAI.
Since April, the nation's birds have been affected by the H5N1 strain widely circulating across the globe. And in June of this year, a new strain — an H7N6 serotype — was first detected in South Africa.
According to SAPA's CEO Dr. Abongile Balarane, the egg supply situation will start to ease in October.
Concerns are being expressed that chicken meat supplies may in future be impacted by similar shortages if HPAI cannot be brought under control.
According to a recent assessment of the South African poultry sector by the USDA Foreign Agricultural Service (FAS), the egg sector has been most affected by the current HPAI outbreaks. With around two million birds culled so far, losses to the sector are estimated at 34 million rand (ZAR; US$1.79 million).
With biosecurity measures raised following a series of HPAI outbreaks in 2017 that affected 5.4 million birds and cost ZAR1.87 billion, FAS does not expect South Africa's poultry producers to scale back production.
2 HPAI virus serotypes in circulation
Based on official notifications, H5N1 has been present in South African poultry flocks since before 2021.
According to the latest notifications to the World Organisation for Animal Health (WOAH), 10 outbreaks have been confirmed since mid-April of this year. Directly impacted so far have been more than 1.3 million poultry, all on commercial farms.
Each of the outbreaks has involved a flock of between 15,000 and 420,000 birds, mainly in one of three districts of Western Cape. In addition, three farms in one district of KwaZulu-Natal have also tested positive for this virus.
Including 35 outbreaks registered with WOAH over the past month, the country's premises infected with the H7N6 HPAI virus serotype stands at 39 since the end of May.
Affecting a total of around 3.05 million poultry, almost all of these outbreaks appear to have occurred near to Johannesburg and Pretoria. Based on the reports to WOAH, 27 involved premises in Gauteng province, with other infections at farms in Mpumalanga, Limpopo, Free State, and North West.
Furthermore, 132 wild birds have tested positive for the H5 virus variant since March, according to WOAH notifications from the national veterinary agency.
One further HPAI outbreak in Nigeria
In late August, the H5N1 HPAI virus was detected on another farm in the West African state.
According to the WOAH notification, affected was a flock of around 5,100 birds in the southwestern state of Ogun. More than 1,800 of the poultry there died, and the rest have been destroyed.
Nigeria's current HPAI outbreak series commenced in December of 2020.
Since then, 453 outbreaks have been officially registered in 31 of the country's 37 administrative divisions. Directly impacted through mortality and culling have been more than 2.4 million poultry.
In addition to the disease challenge, Nigeria's poultry sector is struggling with high feed prices.
View our continuing coverage of the global avian influenza situation.