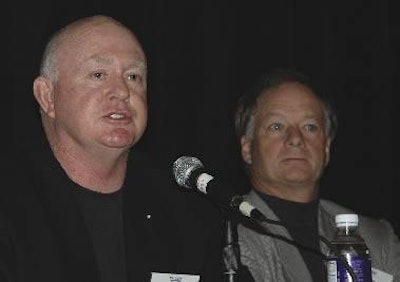 How does sodium get in chicken? How far does chicken travel to get to the consumer? Why are some chicken breasts tougher than others? These are a few questions fielded by a panel of broiler company executives at the biannual Food Media Seminar held earlier this year in Philadelphia. The panel, which was moderated by Foster Farms Poultry Division President Don Jackson, explained the basics of chicken marination, distribution, product aging, and more, in a session attended by over 50 editors and writers representing publications that included Better Homes & Gardens, Family Circle, Southern Living and others. The take-home message from the session, which included executives from Pilgrim's Pride, Perdue Farms, Sanderson Farms and Harrison Poultry, is that industry companies are paying attention to consumer desires and responding.
Moderator Don Jackson introduced the panelists, saying, "If per capita chicken consumption grows by 3 percent a year, which would be extremely aggressive, it would reach 100 pounds per capita in 2010. Our panelists will share with us some ways in which we will continue to grow chicken consumption in this country."
Dark-meat chicken products
O.B. Goolsby, president and CEO of Pilgrim's Pride, told food media members gathered at the Ritz-Carlton that the industry is poised to develop and market more dark-meat chicken products. Noting the proliferation of value-added, white-meat products brought to market domestically over the last 25 years, he predicted that more dark-meat chicken – much of which is now being shipped in frozen, commodity form overseas – will begin to be marketed in value-added form in the USA. "I believe we will see some moderation in the growth in white-meat products and more focus on dark-meat products," he predicted.
"As an industry, we have grown larger birds and deboned more of them, which has resulted in a surplus of dark meat," Mr. Goolsby said. "Today, the chicken industry is exporting about 15 percent of its production to other countries, and those exports are primarily dark meat. About half the dark meat produced in the United States is exported, primarily in frozen, commodity form."
Pointing to the growth in ethnic markets, he said, "I believe that over the next several years, we will see a continued focus on developing and marketing more dark-meat products to be consumed in the U.S. Ethnic cuisines, which are growing in popularity, lend themselves extremely well to the use of dark meat. I believe that, as an industry, we have not done the job that we need to be doing in marketing and developing those products and giving consumers more options in dark meat."
Goolsby also foresees more development of dark-meat chicken strips and tempura chicken products. "There are many products with breast meat strips on the market today, both breaded and non-breaded. By comparison, dark-meat strips work very well. Also, tempura products can be much superior when formulated with dark meat, which is more flavorful, moist and handles flavor profiles just as well as white meat," he said.
Bird size & portion size
Acknowledging that bird size and portion size are perennially a sore subject with the food media writers attending the seminar, Jim Perdue, chairman of Perdue Farms, said, "I think it's important to address the issue, because I think the industry is dealing with it." Mr. Perdue indicated that new cutting technology used in the industry is enabling companies like Perdue Farms and others to produce portion sizes more to the liking of some consumers, who have begun to balk at the larger breasts coming from deboning chickens.
"In 1990, the average size of broilers was about 4.39 pounds, and in 1995, it was 4.76 pounds, which represents an 8.4 percent increase in the five-year period. In 2000, the average size was 5.16 pounds and in 2005 about 5.71 pounds. So, from 1990 to 2005, the increases in weights ran about 1.7 percent per year," he said.
Industry economics driving the rise in weights, notwithstanding, Perdue said, "It creates problems with consumers because when they use that large 7-ounce or 9-ounce piece of boneless breast that has a tail that's thin and a section that's thick, it takes a long time to thaw or cook. It also cooks unevenly.
"You will be seeing a trend to more and more cutting of that meat into sizes that solve the problem that consumers are having," he continued. "Foster Farms has a product, Simply Fresh, which uses the small portion of the breast. Perdue Farms has a new product called Perfect Portions, in which the breast is slit to a thinner portion of about 4 ounces and which is individually wrapped so it can be put in the freezer. We find that 70 percent of consumers buy chicken and put it in the freezer.
"It is equipment from Europe and other parts of the world that can cut the piece of meat into the perfect portion size for the foodservice industry. This equipment wasn't available 10 to 15 years ago; the chicken had to be grown to 3 pounds or 2.5 pounds in order to get that perfect size breast portion. Today, equipment is available that is amazing in its capability to cut up the bird. So, there will be more and more products that address the issue of portion size as we move forward," he concluded.
The 'all-natural' trend
Joe Frank Sanderson, chairman and CEO of Sanderson Farms, told listeners that the "all-natural" trend in food marketing is gaining momentum and attracting the attention of larger producers. "It's something that shows up in our research – and I know it does in the research of all the poultry companies – and appears to be gaining momentum."
While there is no single definition of what constitutes "all-natural" chicken, Mr. Sanderson said consumer interest in these products appears set to continue. He pointed to three market developments as evidence of the trend's significance. "One is the successful development of the Whole Foods grocery chain. That company has grown very rapidly in the past few years. Secondly, in most grocery stores now – Albertsons, Kroger, Safeway and others – there is a section of either organic or "all-natural" products. There is, in fact, at least a limited offering of natural or organic products in almost every grocery chain that Sanderson Farms deals with. Thirdly, and most recently, there is the media campaign by the Arby's fast-food chain promoting all-natural chicken," he said.
"This is a trend that we have tracked through our research for quite a while but which was considered a very small niche market. It appears to be burgeoning a bit now, and I predict this trend will continue," Sanderson said.
Ethnic markets
Mike Welch, president and CEO of Harrison Poultry, pointed to the growth among independent ethnic grocers as representing a sometimes unnoticed opportunity for chicken marketers.
"We are all familiar with the challenge that conventional supermarkets face from Wal-Mart and the club stores. Going relatively unnoticed is the phenomenon of the independent markets, particularly of the ethnic variety," Mr. Welch said.
"We are a diverse population in the U.S. with a growing variety of tastes. In certain areas there is a proliferation of stores operated by Asians, Latinos and others. These stores offer a full-service, bright, and often festive, atmosphere for shoppers. Classic service-type counters contain chicken items in many varieties, including bone-in and boneless marinated items with garnishes, spices and vegetables. One of the concepts I especially like is Crazy Legs in which product is completely unpackaged, letting the visual aspects of the products sell themselves," he said.
Mr. Welch foresees sales to the independent ethnic grocery stores as continuing to grow, even as the ethnic trend gathers strength in the mainstream grocery sector. "Chicken sales to the ethnic grocery sector continue to increase as more and different blends of flavors become accepted. Even in conventional supermarkets, the ethnic foods sections – what were once small corner displays – are growing. These products offer variety and convenience to the consumer, even if not conforming to our notion of prepackaging and precooking," he said.
The Food Media Seminar is sponsored by the National Chicken Council and the U.S. Poultry & Egg Association.