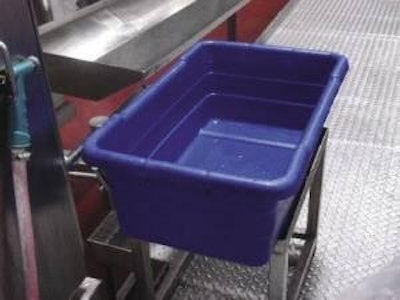 Each and every poultry processing facility can expect to host USDA FSIS personnel for a "food safety assessment" during the next 18 months. Although the HACCP portion of a plant's food safety systems typically receives a significant share of FSIS's assessment time, expect an increased focus on the sanitation standard operating procedures (SSOPs) this time. In July this year, the USDA published revision 2 for FSIS Directive 5100.1 Enforcement, Investigations and Analysis Officer (EIAO) Comprehensive Food Safety Assessment Methodology. This directive gives a list of questions to ask about your programs (see box), and provides a valuable tool when conducting either annual or "for cause" reassessments of sanitation systems.
Bugs and lugs
The very first, and perhaps the most important, question in the revised directive asksAre the SSOPs designed to include all procedures necessary to prevent direct product contamination or adulteration? One source of product contamination that is frequently documented during third party reviews of sanitation systems is lugs, totes, or other reusable product containers. All the government acronyms like EIAO and SSOPs are reminiscent of Dr Seuss and nursery rhymes. One folk song that was recently turned into an advertising jingle states, "There may be bugs on some of those lugs but there ain't no bugs on me." Lugs can indeed have "bugs" and pose a potential for contamination. Are your lugs clean?
Many times the inside of lugs are clean, but when stored they are seated within each other and this creates a potential cross contamination concern. Therefore, the outside of these containers becomes a product contact site regarding environmental sampling. These lugs are also transported to other parts of the facility; often winding up on tables where product is placed or packaged and at times they are placed on the floor while employees perform another task.
The outside of lugs can also come in contact with employee coats, aprons and gloves. This can be especially troubling in areas of the plant where employees are packaging ready-to-eat (RTE) products.
Do your SSOPs and supporting programs address lugs or other similar equipment types and the procedures for handling them? A comprehensive sanitation system is built on sound practices, a comprehensive communication and documentation system, and an extensive training program which recognizes every possible food contact or incidental food contact surface.
Time squeeze
It is true that the sanitation crew's cleaning time is usually squeezed between two production shifts that, due to downtime or other reasons, now have shortened the time period to get all areas appropriately cleaned and ready to start up again. Over the years, there have been extended production hours and shorter cleanup periods. The question is: How do you operate with shortened sanitation windows and maintain the safety and shelf life of your product? Again, the answer is an extremely strong SSOP system. Processors need to appreciate what this delivers to the bottom line.
Importance of documentation
Most sanitation crews, as well as some of the supervisory personnel, are gone before production begins and conversely, production personnel are gone before the sanitation crew comes in. This is where some of the most important information and communication available to make good decisions may be lost. Documentation and communication associated with the hand-off of sanitation back to production or production to sanitation is paramount to the success of the SSOPs.
Over the years there have been many times when proper documentation has prevented questionable product from leaving the establishment, prevented a recall, or limited the amount of product involved. Remember to justify each decision and verify all corrective and preventive measures identified. The detail in an accurate and complete report from sanitation and/or production is extremely important.
So do you know if there are bugs on any of your lugs and can you prove there ain't no bugs on you?