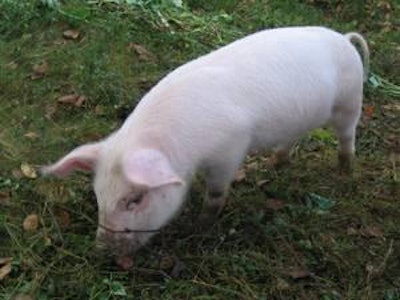 Although the Chinese government recently promised to reopen the domestic pork market to the US, local importers seem to have lost their appetite for US pork. Several companies interviewed say they will not add US pork to what they buy over the next few months.
Product importers and industry experts offer various explanations. The one favored by most is that imported pork, no matter if it is from the US or the European Union (EU), is losing its price advantage against Chinese pork.
"We used to import more than 10 containers of pork products every month," says Li Zhirao, general-manager at Shandong-based Qingdao Fortune Century IMP. & EXP. Co., Ltd. "But since last winter we did not buy any pork from aboard, because domestic pork demand and pork prices slumped during the global recession."
Declining prices
The pricing information from Beijing-based China Animal Agriculture Association (CAAA) show a drop in each kilo of pig meat of 9.78% in mid-October of 2009 against the same period of last year, 11.38 yuan (US$1.67).
Declining domestic pork prices make many importers feel less confident to restart pork imports from the US. Shanghai Dajiang (Group) Stock Co., Ltd., for example, is still suspending their overseas orders, said Mr. Lu, the company sales representative, who declined to give his first name.
The USDA has forecast China's pork imports to decline 39% this year to 300,000 metric tons, based on the above reasons. However, compared with their European competitors, US pork suppliers are most likely to suffer from this loss, as ractopamine concerns barred Chinese importers from US pork.
"My company planned to buy pork from the US before, but we changed our mind," says Wu Kuangjun, with Shanghai Taoze Trade Co., Ltd.
Concerns over ractopamine
"Because we heard ractopamine – a prohibited substance for livestock production in China – was found from imported US pork," she said. "We have never bought US pork and would not consider it in the near future due to food safety concerns."
Instead, every month, the company imports at least five to six containers (each weighs 20 tons) of pork from Spain, which also forbids the use of ractopamine in its hog production, says Ms. Wu.
For the long-term, diet preference changes in China also plays a role in less demand towards U.S. pork imports, say experts.
"In order to take advantage of traditional Chinese diet preference towards pig offal, US pork exporters intend to sell a large amount of pork by-products to the Chinese market," says Ma Chuang, CAAA's deputy secretary.
Changing diets
"However, today, increasingly Chinese, especially the young generation, have started kicking pig offal out of their recipes due to nutrition concerns and the pursuit of a western lifestyle," explained Mr. Ma. "As a result, in the future it will be hard for US exporters to benefit from the differences in our diet preferences and sell complementary products to China."
Data from USDA shows that China imported 480,000 metric tons of pork in 2008, most of which were from the US and five European countries.
Coco Liu is based in WATT's China bureau.