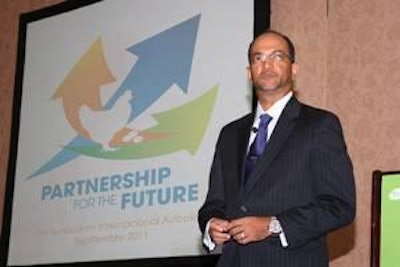 Pfizer Animal Health Global Poultry organized the Partnership for the Future Symposium in Buenos Aires, focusing on the latest in poultry disease trends as well as the new solutions available to ensure bird health and drive industry performance.
The event was held on the eve of the region's poultry congress and hosted 100 delegates. It included presentations on a wide range of topics including a review of the poultry industry in the region by Dr. Osler Desouzart, head of OD Consulting and a member of the Advisory Board of the World Agriculture Forum. Desouzart said that the industry must work together and build new partnerships, particularly as demand for poultry production in the region is likely to soar to new heights before the end of the decade. "The next 30 years will change the landscape of livestock production," said Desouzart. "They will see production, consumption and trade switching to developing countries, and a new emphasis on value rather than cost."
Other topics covered included presentations of neoplastic diseases, the importance of maternal immunity for broiler IBD production, an overview of respiratory disease complexes and a general review of E.coli vaccination experiences.