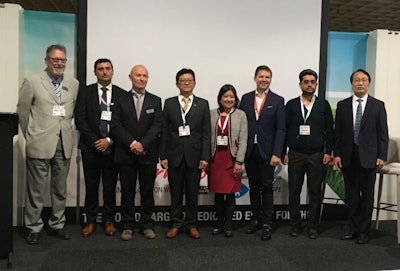 VICTAM Asia in co-location with VIV Health and Nutrition Asia, will take place September 7-9 at the IMPACT Halls, Bangkok, Thailand. Following a number of postponements due the COVID-19 pandemic, the event will now take place, attendees at the event's first official European press conference, held in Utrecht, the Netherlands, were told.
Thailand's Ambassador to The Hague, His Excellency Chatri Archjananun, voiced his support the event, noting that the country is the world's fourth largest exporter of poultry meat. He continued that the Thai feed additive market is projected to be worth US$2.56 billion by 2025, with the poultry market and the compound feed industry being the major drivers.
As far as visiting the country is concerned, he noted that fully vaccinated visitors no longer need to book a quarantine hotel or to show a pre-departure negative PCR test result.
Sebas van den Ende, general manger VICTAM International, commenting on the show, said: "We are finally ready to present to the Asian markets a complete animal feed and health event that we have been working on for the last couple of years.
"We expect professional visitors from the whole ASEAN region and the rest of Asia with the main profiles being CEOs, feed formulators, mill managers, nutritionists, operations directors, transportation managers and veterinarians."
His comments were echoed by Heiko M. Stutzinger, who said: "VIV and VICTAM are committed to serving Asia's feed and animal protein industries by jointly developing business opportunities within the feed ingredients and additives segments, which are the fastest growing sectors of the feed to food supply chain. After more than two years without a dedicated show in the region, the market needs a face-to-face show to get back to action."
Registration for the event is open and co-locating the shows would appear to be broadly welcomed.
"It's a wonderful thing that that these two organizations have tied the knot," said Roger Gilbert, of Perendale Publishing. He continued that these types of events remain essential to meet the people that we need to meet, but that time costs being increasingly important to everyone, bringing the two events together would help.