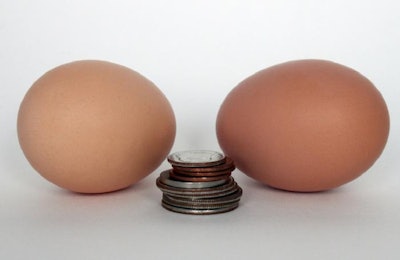 Cal-Maine Foods reported a $45.8 million loss for the first quarter of fiscal year 2020, citing costs related to decommissioning some of its older, less efficient production facilities as it continues to invest in facilities for the production of cage-free and other specialty eggs.
The $45.8 million loss compares to a net income of $12.4 million for the first quarter of fiscal year 2019. The most recent quarter was a 13-week period that ended August 31.
Cal-Maine's net sales for the quarter were $241.2 million, which was a 29.2% decrease on a year-over-year basis.
Dolph Baker, chairman and chief executive officer of Cal-Maine Foods, stated: "Our financial and operating results for the first quarter reflect the very challenging market conditions that prevailed throughout the summer. While our sales volumes were up 1.7 percent over the first quarter last year, the extreme drop in market prices adversely affected our results. The Southeast large market average price for conventional eggs dropped 40.7 percent for the first quarter of fiscal 2020 compared to the first quarter of fiscal 2019. At the same time, our average sales price was down 30.0 percent for the first quarter compared to the same period last year. The significant drop in market prices reflects the oversupply of eggs that began to affect the market starting in early calendar 2018."
That trend has continued as the most recent USDA Chickens and Eggs Report showed 331.4 million laying hens as of September 1, 2019, which was approximately 800,000 more hens than a year ago, Baker added.
Specialty egg performance and strategy
"Our specialty egg business will continue to be a primary focus of our growth strategy in fiscal 2020," said Baker. "For the first quarter, specialty eggs, excluding co-pack sales, accounted for 22.2 percent of our sales volumes, compared with 23.8 percent a year ago. Specialty egg volumes were affected by the significant price differential between conventional and specialty eggs. However, specialty egg revenue was 44.9 percent of total shell egg revenue, compared with 34.2 percent for the first quarter of fiscal 2019, reflecting less volatility in the average selling price for specialty eggs. Specialty egg prices were only down 1.4 percent as compared to the first quarter of fiscal 2019."
"We remain committed to offering a favorable product mix that meets the changing demands of our customers. As a result of California Proposition 12 and other industry changes, we are preparing for the expected higher demand for cage-free eggs. Throughout the first quarter, we have made considerable progress with our expansion plans designed to increase our cage-free capacity. As previously announced, we have capital projects underway in Florida, Texas and Utah, which at completion, will provide significant additional processing, pullet and cage-free capacity."
Impact of other market conditions
"In spite of challenging conditions, we have remained focused on efficient and responsible management across our operations. For the first quarter, our farm production costs per dozen were up 2.3 percent over the first quarter last year. A majority of the increase was due to flock rotation adjustments, as we sold flocks early in response to market conditions, and higher labor costs," said Baker.
"Our feed costs per dozen have remained relatively flat since the first quarter of fiscal 2019. Based on the USDA's current yield and harvest estimates for the calendar 2019 corn and soybean crops, we expect to have an adequate supply of both grains in fiscal 2020. However, ongoing uncertainties and geopolitical issues surrounding trade agreements and international tariffs could create more price volatility in the coming year.
"As we move forward in fiscal 2020, we will focus on the aspects of our business we can control, regardless of market prices and challenging conditions. We are well positioned to execute our growth strategy and make the right investments to support our operations and continue to serve our valued customers," added Baker.