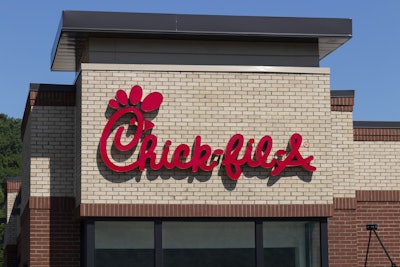 Jonathan Weiss | bigstockphoto
Chick-fil-A plans to relaunch operations in the United Kingdom (UK) in 2025, marking the first permanent store outside of North America.
"We are excited our restaurants will bring new jobs and opportunities throughout the UK. Serving communities is at the heart of everything we do at Chick-fil-A, and our unique local owner-operator model provides one of a kind access to entrepreneurial opportunities," said Anita Costello, chief international officer at Chick-fil-A Inc.
"We look forward to sharing our authentic Chick-fil-A experience: providing fresh food prepared with high-quality ingredients, served with our signature hospitality."
According to a press release, the company plans to open five restaurants in the UK within the first two years. All chicken served will be sourced from the UK and Ireland.
$1 billion expansion plan
The move is a part of the quick service restaurant (QSR) brands $1 billion plan to open restaurants in Europe and Asia by 2026 and operate in five international markets by 2030.
"We feel like it's time to continue to innovate and try [to] test how we will do in international markets so that we can learn," CEO Andrew Cathy told the Wall Street Journal.
A previous attempt in 2019 to open a Chick-fil-A in the UK was short-lived following protests by gay rights advocates about past statements from former chief executive, Dan Cathy. It's location, the Oracle shopping mall in Reading, England, decided not to renew the QSR's lease after only ten days of business.
"We always look to introduce new concepts for our customers, however, we have decided on this occasion that the right thing to do is to only allow Chick-fil-A to trade with us for the initial six-month pilot period, and not to extend the lease any further," an Oracle spokesperson said at the time.
Chick-fil-A currently operates more than 2,800 restaurants across the U.S., Puerto Rico and Canada. The brand is the most popular U.S. QSR for chicken sandwiches and nuggets, according to data analyst firm, Revenue Management Solutions.