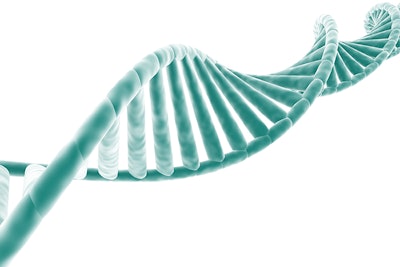 Viral DNA – sections of the genome derived from viruses – may help prevent related infections in chickens, protecting bird health, reveals recently published research from the Roslin Institute at the University of Edinburgh.
The study, published in Genetics Selection Evolution, focused on Avian Leukosis Virus subgroup E (ALVE) infections and could be of greatest benefit to smallholder farms in developing countries.
"Being able to improve productivity and understand disease resilience in birds is important to not only large commercial industries, but also to backyard farmers in low to middle income countries. Understanding the role genetics plays in these processes is becoming increasingly important," said Dr. Jacqueline Smith, Roslin Institute and Centre for Tropical Livestock Genetics and Health.
Viral DNA Basics
Viruses can embed small chunks of their genetic material into an organism's DNA. Over time, viral DNA mutates into a version that can no longer cause an infection, although it may still slow growth and productivity.
"ALVEs are endogenous retroviruses (ERVs), copies of viral DNA sequences that have become part of the host (in this case, chicken). In most cases, ERVs give no benefit to the host so they degrade over (evolutionary) time. Until that point, some ERVs continue to produce retrovirus molecules and can cause stress in the host," Smith said.
"In commercial birds, ALVEs have been associated with reductions in muscle growth and egg production, so understanding which ALVEs are in the chickens of these low to middle income country smallholder farms may help improve food security."
Surprising ALVE diversity
The researchers analyzed the genomes of more than 400 chickens from Ethiopia, Nigeria and Iraq, searching for the presence of ALVE and comparing it to a widely used chicken reference genome. They found 850 undiscovered ALVE types, more than triple the number previously known.
"In commercial poultry flocks, ALVEs have been limited by intensive selection during breeding, but in non-commercial settings, ALVE content of indigenous birds is found to be highly diverse but occurring at low frequencies within individual birds. This supports the idea that ALVEs have a role in regulating host responses to further infection by Avian Leukosis Virus, and therefore may have a beneficial effect in the genome," Smith explained.
"Now we have a better idea of ALVE diversity we can study the impact of each ALVE on its host chicken with regard to disease susceptibility and productivity. This could be used to help smallholder farmers select which chickens they use to breed the next generation."
Like what you just read? Sign up now for free to receive the Poultry Future Newsletter