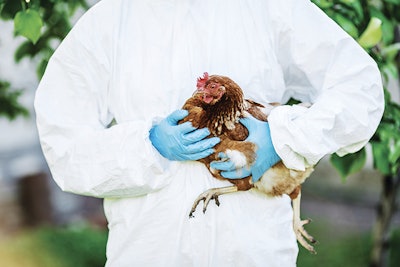 Veterinarians play a critical role in keeping flocks healthy. Emerging technologies, such as artificial intelligence, can help producers and veterinarians better collect and monitor data about bird nutrition, management and health.
"We have new tools and technologies that help us better monitor bird health. For example, I'm using these tools to make sure that the calcium and the phosphorus in the blood of the birds is at optimum levels without having to measure calcium phosphate levels in the feed," said Daniel Venne, DVM, Veterinarian, Couvoir Scott ltée.
"Having tools that measure calcium and phosphorus helps us make better decisions for bird health."
Venne will present on the role of the veterinarian in supplying quality data at the Virtual Poultry Tech Summit, scheduled for October 20-22, 2020. This one-of-a-kind online event facilitates the transition of innovation technologies from researchers and entrepreneurs into commercial applications for the benefit of the poultry industry. Make plans to attend and take a look at the future of the industry.
Registration for the 2020 Virtual Poultry Tech Summit is now open.
Artificial intelligence and biochemical profiles
Artificial intelligence is a powerful tool that can help producers address growing challenges and improve efficiency. It collects and performs in-depth analysis on data – so it is only as good as the data it collects.
"Artificial intelligence depends on the quality of the data generated. If, for example, we use artificial intelligence to monitor body temperature, we want to make sure that the bird is comfortable. How do we do that? By measuring blood gas levels to ensure that ventilation is working," Venne said.
Biochemical profiles could help improve the data collected with artificial intelligence. To create the biochemical profile of a flock, veterinarians analyze the blood samples of 4-5 birds within a flock and compare the results to the data of a healthy flock. Deviations are automatically flagged, allowing producers and veterinarians to find a solution before mortality occurs.
"When we can get a bird's biochemical or metabolic profile to be in the right zone, there's a lot of profitability in that because they are using their energy for better growth and feed conversion," said Venne.
Like what you just read? Sign up now for free to receive the Poultry Future Newsletter.