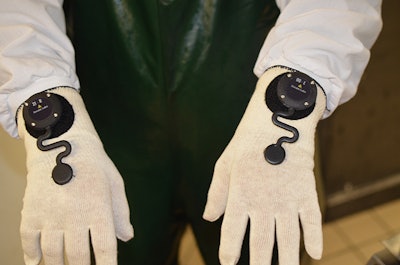 Iterate Labs, which specializes in wearable digital technology for the poultry industry, has raised more than $1 million in seed funding.
Monozukuri Ventures led the investments, joined by Tyson Ventures, the venture capital arm of Tyson Foods, Entrepreneurs Roundtable Accelerator (ERA) and Ray Muzyka.
"At Tyson Ventures, we are continually exploring new areas of technology and artificial intelligence that can improve the health and well-being of our team members." said Rahul Ray, Director of Tyson Ventures.
"We believe Iterate Labs' Industrial IoT (Internet of Things) platform could be a game changer driving real-time visibility, safety and productivity for the North American manufacturing workforce."
The startup plans to use the funding to support scaling of current customers, customer acquisition and invest in sales and engineering resources for further growth.
"We are beyond excited to have such well-established investors in the manufacturing space join our round. As one of the world's largest food companies, Tyson Foods' strong support for their workforce and continued focus on innovation will help us more effectively solve the needs of our customers" said Jason Guss, CEO and Co-founder of Iterate Labs.
"This is just the start of our exciting journey to digitize manufacturing facilities and to enable a safer and more productive environment for our front-line workers. We will be using the proceeds of the round to bring our technology to more workforces, and to provide more value along the way."
How the technology works
Iterate Labs produces an industrial wearable that attaches the gloves of plant workers. The wearables monitor and record worker movements, alerting supervisors in real-time if certain motions put a worker at risk of musculoskeletal injuries.
And when not having to deal with injuries, "Processors can work on workforce output, workforce availability and quality of work. If each of these factors can be better managed, then there is an increased output that can be achieved," Guss shared in a presentation during the 2020 Virtual Poultry Tech Summit.
Highlight your innovation
The 2021 Poultry Tech Summit will be held as an in-person event at the Georgia Tech Hotel & Conference Center in Atlanta, Georgia. This exclusive event is seeking abstracts and applications for innovators and technology presenters.
To submit your innovation or technology presentation for review, please visit https://bit.ly/38F9JpD to apply and submit your abstract by April 30, 2021.
Attend the 2021 Poultry Tech Summit
Join an exclusive international gathering of industry-changing innovators, researchers, entrepreneurs, technology experts, investors and leading poultry producers at the 2021 edition of Poultry Tech Summit on October 31 - November 2 in Atlanta, Georgia. Attendees can expect the same groundbreaking innovation and insightful presentations that made the previous events well-attended with deep dialogue on new prospective solutions and developing technologies.
Like what you just read? Sign up now for free to receive the Poultry Future Newsletter.